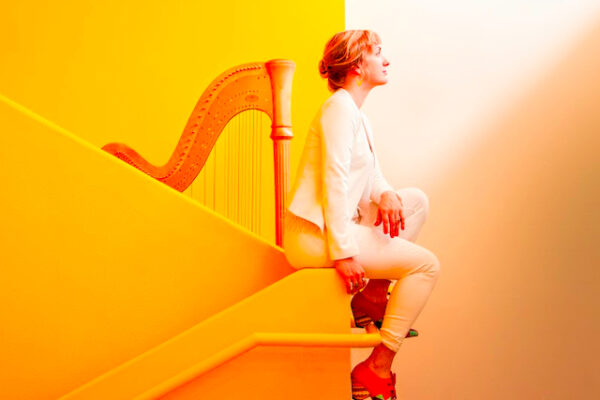 Experimental harpist/composer Elisa Thorn and violinist Meredith Bates have been playing together in many contexts for the past ten years, including their project Gentle Party which just released its sophomore album, God Complex. The two will be presenting improvised works creating visceral sound worlds with ample electronic processing, extended techniques, classical virtuosity and ambient minimalism.

Elisa Thorn is a harpist/composer living in Vancouver, BC. Combining her technical classical background, exploration of electronic processing and experience working in a variety of contemporary music worlds, Elisa's music is propelled by two artistic objectives: firstly, how to create music that is both abstract and accessible; and secondly, how to lead a band with harp in a way that does not compromise sensitivity with its boldness, or generosity with its curiosity. Interested in the intersection between composed and improvised music, she is involved with many projects including HUE, The Giving Shapes, and Gentle Party. Her electroacoustic sound world is designed to leave you wondering where the sounds came from. Emerging and dissolving into an ambient landscape, you may hear her influences from Pauline Oliveros, Vijay Iyer, Björk, Radiohead, Arthur Russell, Stevie Wonder, Fiona Apple, Debussy, and the distinct style of the West Coast creative music scene. 
A talented improvisor and performer, award-winning violinist Meredith Bates is known for her elegant and virtuosic sound. She has spent most of the past twenty years recording and performing around the world in celebrated ensembles, such as Pugs and Crows, Gentle Party, and projects led by Vancouver music icons Tony Wilson, Ford Pier, Leah Abramson, and Peggy Lee. Recently, Meredith has founded a new instrumental sextet Like the Mind, with renowned improvisors from Canada and Sweden (Peggy Lee, Lisa Ullen, Lisen Rylander Love, Elisa Thorn, and Emma Augustsson). Her ambient and experimental debut solo album, If Not Now (2020, Phonometrograph) is inspired by our relationship to one another and our natural surroundings. Meredith lives on unceded Coast Salish territory and is the artistic director of the Vancouver Improvised Arts Society (VIAS), a non-profit organization aimed at supporting the creation and presentation of improvised works by womxn, BIPOC, and LGBTQ2S+ artists.
Curated by Omar Willey for Nonsequitur's NonSeq series.
COVID-19 PROTOCOLS: Although we will not require proof of vaccination status to attend, for this event we are still asking that all audience members wear a mask covering nose and mouth.