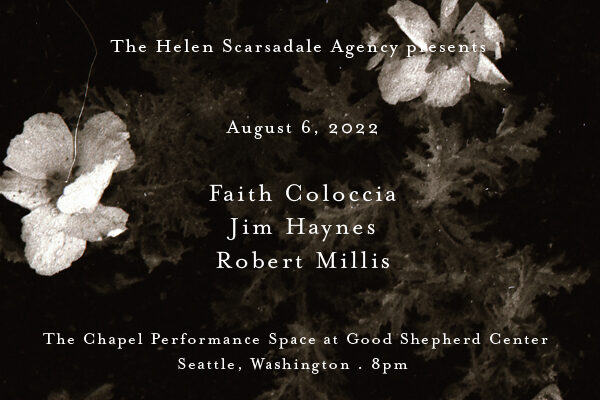 The Helen Scarsdale Agency presents a night of blurred sound, caustic noise, antique drift, and liminal drone with Faith Coloccia, Jim Haynes, and Robert Millis.
Faith Coloccia is an American artist and composer based in Vashon, WA. She was born and raised in Palm Springs, CA, and attended Otis College of Art and Design in Los Angeles (BFA). Her work is focused on time deconstruction, inherited memory, indexical archives and how sound affects the body in space. Using voice, field recordings, visual scores and traditional instrumentation, she unites composition, spirituality and installation acoustics into a cohesive whole. She performs under the names of Mamiffer and Mára and has been commissioned by and performed at festivals such as Big Ears (US), Hopscotch (US) and Sacrum Profanum (PL). She has performed in Europe, North America and Japan, and has collaborated with artists such as Daniel Menche, Jon Mueller, Aaron Turner, Circle and Eyvind Kang. Her work has been released on SIGE Records, Karlrecords. Room40 and Touch.
Corrosion and decay are central themes to the work of Californian artist Jim Haynes. He works with a recombinant crucible of shortwave radio, convulsive motors, electro-magnetic disturbances, and electronics in variable states of disrepair, with publications through Editions Mego, Sige Records, Elevator Bath, Monorail Trespassing, The Helen Scarsdale Agency, and many others. His latest album "Insomnia" has been published in 2022 in the face of many difficulties by the Ukranian imprint Sentimental Productions.
Robert Millis is known for many things – co-founder of Climax Golden Twins, Messenger Girls Trio, Idol Ko Si, and AFCGT; filmmaker and producer for the Sublime Frequencies label; co-producer of the Victrola Favorites book and cassette series (other collections include the Deben Bhattacharya: Men and Music on the Desert Road and Indian Talking Machine books). His scholarship into the hidden corners of music across the world has also earned him Guggenheim and Fulbright fellowships. His most recent LP, 2020's Related Ephemera, was on the Helen Scarsdale label and explored the textures of 78rpm and wax cylinder recordings.