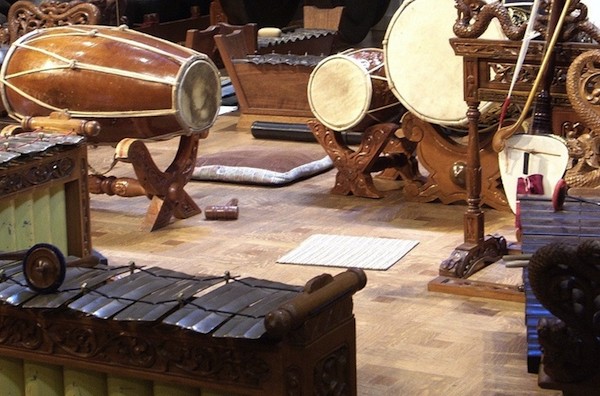 Gamelan Pacifica presents Back to the Source: Music from Central Java, with special guest renowned Javanese musician Heri Purwanto, and featuring vocalist/pesindhèn Jessika Kenney. Directed by Jarrad Powell. Musicians: Jackie An, Maggie Brown, Michael Dorrity, Stephen Fandrich, Ted Gill, Sierra Klingele, Deena Manis, Jarrad Powell, Richard Robinson, Matt Shoemaker, Stephanie Shadbolt, Jesse Snyder, Astrid Vinje.
Gamelan, an Indonesian gong-chime percussion orchestra and one of the most remarkable ensembles in the world, creates both rich and dramatic resonance and contemplative beauty. Gamelan Pacifica performs music for Javanese gamelan, featuring classic gending (compositions) from Central Java.
HERI PURWANTO is a highly respected teacher, performer, and master musician of the Javanese gamelan. He comes from a family of musicians in Wonogiri, Central Java. After graduating from the college level academy (Sekolah Tinggi Seni Indonesia) in Surakarta, Central Java, at the top of his class in 2000, he taught gamelan at the University of California-Berkeley, from 2001 to 2004 and directed the Berkeley-based ensemble Gamelan Sari Raras. He returned to Java in 2004, continuing his work as an artist, building and running an arts studio in his community as well as performing as a musician throughout Indonesia and in Singapore. More recently he has been a visiting artist at academic institutions in the U.S., including the University of Washington and Cornish College of the Arts.
JESSIKA KENNEY is a composer/singer who does not fear untraveled paths, appreciated by audiences for the vastly different musical forms she has integrated into a distinct style. Her reverence for, and interpretations of, South East Asian and Persian vocal traditions have also formed the basis for her main improvisational work. Simultaneously, an ongoing series of collaborations with her husband, composer/violist Eyvind Kang, have her embracing the avant-garde audience. Add to that her performances of Scelsi, Cage and Feldman, and her involvement with experimental metal groups such as Sunn O))) and ASVA, and one realizes that challenging horizons mark Kenney's regular pursuits. In 2014, Kenney received Artist Trust's James W. Ray Distinguished Artist Award for a Washington State artist whose work demonstrates exceptional originality, and she and Kang were recipients of the 2013 Stranger Genius Award in Music.
GAMELAN PACIFICA has performed extensively in the Pacific Northwest, throughout the U.S. and Canada. Formed in 1980, Gamelan Pacifica is among the finest ensembles devoted to the performance of music for gamelan in the U.S. They have been guest performers on The Smithsonian Institute's Festival of Indonesia, New Music Across America Festival, Vancouver New Music Society, On the Boards, Walker Art Center, Performing Arts Chicago, and many others. In the Northwest they perform regularly and have appeared at the University of Washington, Seattle University, Town Hall, Cornish College of the Arts, Seattle Art Museum, Evergreen State College, Centrum, Bumbershoot Festival, Arts in Nature Festival, University of Oregon, Whidbey Institute, CenterStage, and many others. Visiting artists have included some of the most notable artists of Indonesia, including Rahayu Supangah, Al. Suwardi, Peni Chandra Rini, Sutrisno Hartana, Wayan Sinti, Didik Nini Thowok, Sri Djoko Rahardja, I Made Sidia, Endo Suanda, Dedek Wahyudi, Goenawan Mohamad, and Tony Prabowo. Gamelan Pacifica's recording, Trance Gong, has received international acclaim. Recent recordings include Scenes from Cavafy for New World Records, and Nourishment for Blind Stone Records. Gamelan Pacifica is directed by noted composer and Cornish College of the Arts Professor Jarrad Powell. In addition to sponsoring the Javanese gamelan ensemble, Gamelan Pacifica is a well-respected non-profit arts organization that supports programs and projects relating to music and dance, with a special emphasis on cross-cultural and interdisciplinary collaboration. Gamelan Pacifica has been the recipient of numerous grants, including support from the National Endowment for the Arts, the Rockefeller Foundation and Arts International. Gamelan Pacifica is currently supported in part by sustaining funds from the Seattle Office of Arts and Culture and 4Culture.