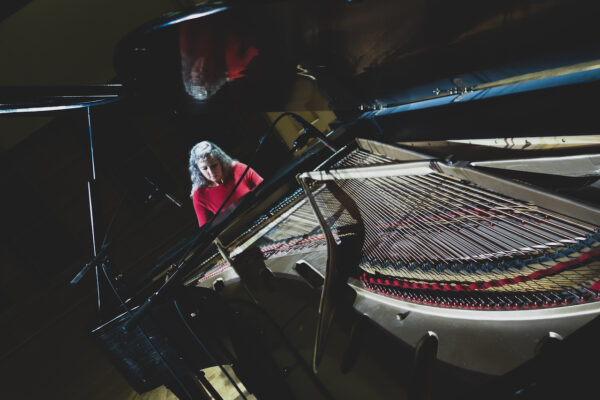 Pianist GraceANN Cummings premieres Garrett Fisher's Blueprints for Solo Piano, a technically demanding set of works based on Fisher's unique collaborative approach to music-making.
Garrett Fisher has created more than a dozen opera-theatre productions in the US and Europe that have "combined elements of opera, dance, Indian raga, Japanese Noh theater and more into fusions that have both a ritualistic intensity and an improvisatory freedom…a groundbreaking hybrid…a strong, unified and strikingly individual utterance of unambiguous beauty" (The New York Times).
Up until now Fisher has mainly created opera-theater productions, most recently BLOOD MOON produced by Beth Morrison Projects at the NYC's Prototype Festival. These piano pieces are the first ones he's written for any solo instrument. In his opera scores he weaves in "blueprints" – improvisatory frameworks – that guide the performer to discover their own unique interpretation and infuse their own authentic voice into the very fabric of the production. This freedom is foreign to most western musicians, and requires great trust and extensive practice. With these pieces for piano, Fisher has stepped out of the world of theater and entirely into the world of sound.
GraceANN Cummings is a pianist known for her concerts and CDs that take listeners INSIDE the MUSIC which she has been presenting throughout the United States since 1994. Her repertoire in these concerts spans the centuries since Bach to premiere performances by living composers, designed to give audiences a deeper listening experience with the relationship of silence that moves amidst the sounds.
COVID-19 PROTOCOLS: Following current mandates from King County & WA State public health officials, all audience members at this performance will be required to wear masks regardless of vaccination status. Proof of vaccination status and/or recent negative COVID test result will be required for entry. Additionally, chair seating will be arranged to maintain social distancing; people who live together may group chairs accordingly. Windows will be open, weather permitting.