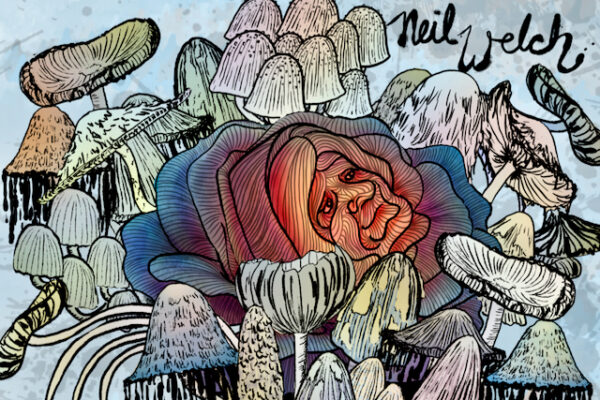 Celebrating the release of saxophonist/composer Neil Welch's new album the ink around it, with 3 unique performers: Nat Evans (gongs/stringed instruments for improviser), Neil Welch (solo sax), and the composition Concepción Picciotto (for 11 member ensemble).
Tonight's music will explore the vibrant, lush abundance of the natural world and the human interference within the biodiversity that threatens our one, beautiful earth-home. The event will feature three sonic episodes, including: composer Nat Evans (gongs/stringed instruments for improviser) to open, Neil Welch (solo sax) performing Puhpowee, and an 11-piece ensemble performing Concepción Picciotto, a long-form work dedicated to a homeless peace activist who worked for nuclear disarmament.
The word Puhpowee comes from the Potawatomi Native American language, and translates as "the force which causes mushrooms to push up from the earth overnight." I try to take the listener through my sonic interpretation of the fungi bursting forth, spreading their spores, living and dying. Throughout the piece, the listener will hear multiphonic bursts of color that signify Puhpowee, interspersed by quarter note melodic passages, representing the fungi mycelium with their hyphae threads connecting the mushroom bursts. A heavy ostinato enters mid-way through the piece, representing the beasts that trample the ground, most forcefully that of the human.
Concepción Picciotto is titled, composed and dedicated to the homeless peace activist who lived on the street in front of the White House from 1981-2016. She held what is thought to be the longest continuous protest in world history, working to raise awareness of endless US-driven wars, with a particular focus on nuclear disarmament. This 26+ minute work is scored for saxophone section, string quartet, rhythm section and mezzo soprano vocalist, featuring a stellar lineup of Seattle's top-tier creative musicians. It is a work exploring myriad territory, from ethereal soundscapes to driving jazz rhythms, percussive undulations and more. It was inspired by her life and written in her memory.
Marcin Pączkowski – conductor
Danielle Reutter-Harrah, mezzo-soprano voice and soloist
Kate Olson, soprano sax
Jacob Zimmerman – alto sax
Neil Welch – tenor sax / soloist
Peter Daniel – baritone sax
Janna Webbon, violin
Heather Bentley, viola
Ebony Miranda, cello
Abbey Blackwell, bass
Christopher Icasiano, drums, cymbals, metal objects
COVID-19 PROTOCOLS: Following current mandates from King County & WA State public health officials, all audience members at this performance will be required to wear masks regardless of vaccination status. Proof of vaccination status and/or recent negative COVID test result will be required for entry. Additionally, chair seating will be arranged to maintain social distancing; people who live together may group chairs accordingly. Windows will be open, weather permitting.