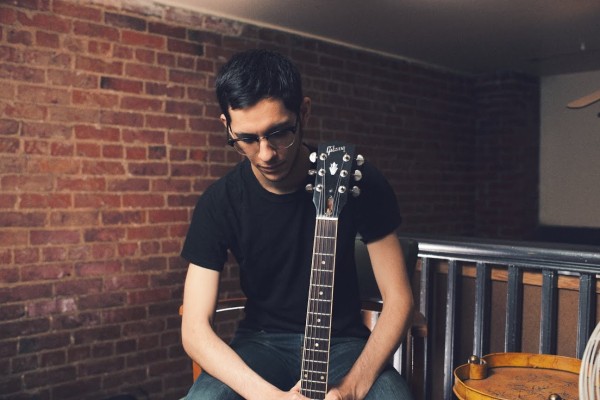 Guitarist/composer Gregg Belisle-Chi celebrates the release of his debut album, Tenebrae, for solo guitar and with vocalist Chelsea Crabtree on the Canadian Songlines label.
Currently completing his M.Mus at UW, Gregg Belisle-Chi has performed with a wide range of musicians in Seattle, among them Jim Knapp, Andy Clausen, Bill Frisell (a friend and mentor), Wayne Horvitz and Eyvind Kang, and in a variety of genres (avant-garde, pop/rock, folk, chamber). The vocals are by his wife (their musical collaboration began in 2009). Two years in the making, Tenebrae comes out of Belisle-Chi's personal relationship to the guitar and his listening to 20th century classical composers such as Bartok and Ligeti, consciously balancing harmonic dissonance with clear melodic line. The music is through-composed, there is no improvisation as such. Words and songwriting are a central focus, with a strong literary influence:
"For this music I drew a lot of inspiration from writers: when it came to composing, I divided up all the elements similarly to how you might a piece of fiction, in terms of form, phrase, structure, characters, development, motifs. All these things sort of relate to one another, in musical and literary terms. More and more I'm attracted to the idea of incorporating songwriting into a jazz/improvising ensemble. I think jazz sort of missed the mark by just taking the Great American Songbook and using the chord progressions as vehicles to improvise over; everything is about the instrumental solo and the virtuosity of the players, but that leaves out the listeners who might want to hear a great story or who appreciate great poetry, anyone who's attracted to words, which seems like a majority of listeners today."
Bassist Carmen Rothwell plays what she wants to hear, and she wants you to hear it too. Some of her solo pieces are carefully crafted compositions–methodical utilizations of extended techniques; others are simple melodies dreamed up over long car rides. Others still are improvisations being sculpted as we listen. Carmen has established herself as an active voice in Seattle's improvised music scene. She performs with many groups around the city (Tyrant Lizard, The Sky is a Suitcase, Wally Shoup Trio + One, Tofte, Ings, and more), and has been developing a unique repertoire of solo bass music. She was voted Earshot Jazz's 2014 Emerging Artist of the Year.