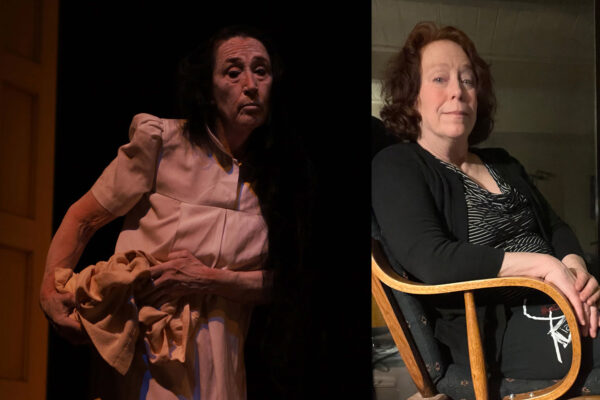 Please note that our building's elevator is now back in service!
This evening, directed by Joan Laage/Kogut Butoh and composer Amy Denio, and co-created with the performers, celebrates the wayward girls who lived in the Good Shepherd Center, their lives real and imaginary.
While attending a performance at the Chapel, which we do frequently, my husband exclaimed, "the house of the pregnant girls," and I suddenly decided to create a piece inspired by the center's history and occupants. The Sisters of the Good Shepherd order started in France, spread to the US and in 1890, a train brought five nuns through the forest and mountains to Seattle. The center provided shelter, education, and guidance to young girls so they could become caring, responsible, and moral young women. An emphasis on morality was most likely strongly linked to sexuality. Today's increasing restrictions on sex education coupled with the denial of fluid gender identity are also burdened by what might be called the "moral imperative." There is great political pressure on women concerning their rights as sexual beings, potential mothers, etc., with the self-determination of women's bodies being eroded.
Amy Denio: voice, clarinet, accordion
Randy Shay: guitar, piano
Greg Campbell: French horn, percussion
Joey Largent: accordion
Sheri Brown & Robyn Bjornson: butoh dance
Known as Kogut Butoh, Joan Laage has been performing and teaching butoh and collaborating with area and international performers since she settled in Seattle in 1990 after studying butoh with masters in Tokyo. Collaborations include Rob Angus, Noisepoetnobody, Stephen Fandrich, Jeff Greinke, Scott Adams and Seattle Kokon Taiko. Her group Dappin' Butoh was well-known in the Seattle Fringe Theater Festival for 10 years. Joan is a co-founder of DAIPANbutoh Collective (since 2010), which produces an annual butoh festival. In past summers she has been performing free outdoor events with Michael Shannon, David Stanford, Joey Largent and others on area beaches and in public and private gardens. Her work is influenced by her years of practicing Tai Chi and her profession as a gardener.
Amy Denio is an award-winning composer, singer, improviser, and multi-instrumentalist, record producer and recording engineer. Denio has completed dozens of commissions and grants to compose for modern dance, film and theater, multi-media performances, and television. To date, she has created over 600 works and has produced recordings in collaboration with artists all over the world. She operates Spoot Music, her record label, publishing company and recording studio.
Randy Shay is a versatile composer/singer/songwriter whose main instruments are piano and guitar, but also bass, mandolin, viol, and zither. He plays original solo compositions at art openings and meditation/dance events and has played in groups such as Spirit of Ojah (African music), Acoustic Snacks (folk & blues) with Jimmy Free, and Tones (multi-genre) with Kirk McNaught.
Greg Campbell plays drums, percussion, French horn, and other instruments. He works in the broader jazz and classical traditions, performing with groups ranging from the Seattle Modern Orchestra to Wayne Horvitz's Electric Circus, and with artists such as steel pan virtuoso Ray Holman, Eyvind Kang, Ali Birra, Vinny Golia, Lori Goldston, Christian Asplund, Nels Cline, and James Falzone. His studies with Asante palmwine guitarist Koo Nimo led him to Ghana in 2017; he has worked with Koo Nimo's son Yaw Amponsah in the traditional Asante drumming group Anokye Agofomma for more than twenty years. Greg teaches at the Cornish College of the Arts and at Cascadia College.
Joey Largent's work focuses on exploring long-duration compositions and improvisations for acoustic ensembles and solo performance. Beyond generating music alone, his goal is to offer a space for introspection, releasing from attachment, beauty, and connection. He has collaborated with numerous dancers, musicians, and interdisciplinary artists over the years, and has studied North Indian Classical singing with several disciples of Pandit Pran Nath, primarily Michael Harrison and Rose Okada. Joey's contributions to the musical score include cello, voice, sheng, percussion, bowed cymbals and reed organ.
Sheri Brown is Artistic Director of DAIPANbutoh Collective, a choreographer, dance/math/science teacher, and dreamer. A renaissance woman with 20 years study and training in butoh from a wealth of masters including Joan Laage, Diego Pinon, Katsura Kan, Brown earned her BA in Theatre from Arizona State University and Masters in Teaching from University of Hawaii. Residing in the Tashiro Kaplan Artist Lofts, she directs big roaming butoh performances in the Pioneer Square area every year. Sheri traverses metaphysical bridges, mathematics, spirituality, and dance in a uniquely pioneering way of life.
Robyn Bjornson is a movement and dance facilitator, youth mentor and performing artist. She draws on her deep study of Yoga, contact improvisation, acrobatics, dance and butoh as the foundations for her unfolding practice and lifestyle. She began the study of butoh with Maureen Freehill in 2014 and performed in her first piece in 2015 choreographed by Alycia Scott. In 2016 she dove into butoh at The Evergreen State College with her friend and artistic collaborator Ivan Espinosa and studied with Diego Pinon and Sheri Brown in college while performing in several staged and public park performances.