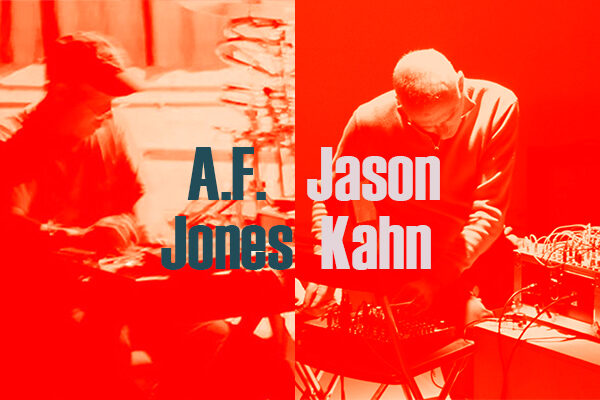 Jason Kahn (Zürich) and Alan F. Jones (Tracyton, WA) will perform in support of Jason's ongoing US tour, with two solo sets each and one duo set for an evening of dynamic modular synthesis and prepared pedal steel guitar.
Jason Kahn was born in New York, in 1960. An artist, musician, and writer. He lives and works in Zürich. His work with electronics involves chaotic feedback systems and placing his body in the circuit ow. Grabbing open leads with the hands makes and breaks circuits, causing the synthesizer to overload or momentarily collapse. Various contact microphones, electromagnetic inductors, and the synthesizer's own output via a mixing board are used to modulate the parameters of the synthesizer. This results in a very dynamic system, often difficult to control, but allowing great expressivity — much like any acoustic instrument, but electronic. As an electronic musician, guitarist, vocalist, and percussionist, Kahn collaborates with many international musicians in the context of free improvised music. Jason has performed and exhibited work around the world.

A.F. Jones is a Dallas-born, Washington-based musician, composer, and sound designer. His live sets are fully improvised, emphasizing the use of guitar, lap steel, and pedal steel. Al is currently involved in several projects, including 'what', Telescoping, and Buck Young. As a sound designer and filmmaker, his most recent film is the acclaimed What Is Man and What Is Guitar? Keith Rowe. He runs the Laminal mastering studio and curates the Marginal Frequency performance series and record label of the same name.
COVID-19 PROTOCOLS: For the safety of all present, audience members are required to wear a mask covering nose and mouth.