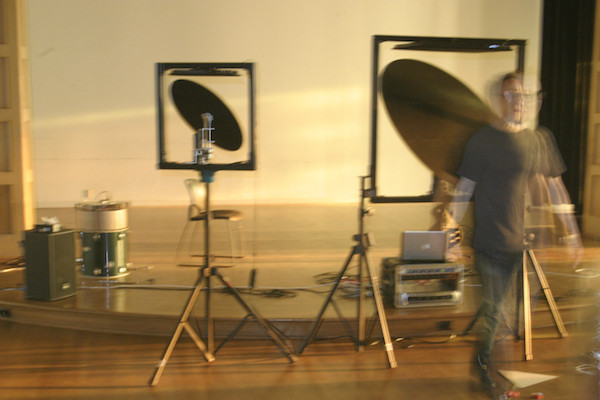 * Seating will be limited, so advance purchase is recommended. Any remaining seats will be available at the door for a $5 – $15 suggested donation.
A Sonic Lighthouse is a one of a kind device invented by Jimmy Johnson that spins a highly focused beam of sound around a horizontal plane. The experience of sound emitted from this device depends entirely on the space you are in, the speed of rotation, and the type of sound input. At slow rotation speeds in a rectangular room, it sounds like there is an invisible speaker sliding itself around the surfaces of the room and then suddenly loud when pointed at you. As you speed it up it becomes an enveloping cloud with a rhythmic pulse. The end result is spatially mesmerizing and phenomenologically paradoxical. Favorite comment so far "..I think you've broken sound"
This performance of The Synchronized Rotations of Sounds in Spaces is tailored to the unique acoustics and geometry of the Chapel. It will feature live musicians, synthesized sound and field recordings played through several sonic lighthouses, a second type of rotating reflector (also invented by Jimmy), and traditional multi-speaker holographic sound system for virtual rotations. These three systems will be networked together in ways that make musical tempo-based sense and can interact with each other, FX parameters, synths, MIDI, and of course the musicians. The performance will feature improvisations by Cristin Miller, Eric Muhs, and special guests. Original compositions and interpretations of the music of Billie Holiday, Emily Howell, Maryanne Amacher, Bette Midler and the original NBC TV series Knight Rider will be heard.
Jimmy Johnson is a composer, artist, scientist and engineer; in that order, both chronologically and vocationally speaking. He has composed music for feature film, television, dance, new media installation and has had music released on Astralwerks, Moonshine, Virgin, Domestic and Fragrant Music. His artwork has been installed in the Getty Center, LACMA, Albright-Knox Art Gallery, the Henry, the EMP and is included in the permanent collection of the National Gallery of Art. As a scientist he studied the role social learning plays in the developmental and echolocation calls of E. fuscus, the big brown bat. Most recently employed as a research scientist/engineer at the University of Washington, he graduated from the North Carolina School of the Arts where he studied classical guitar with Aaron Shearer, earned a Bachelor's degree in Sonic Creation and Perception from the University of Washington, and a Bard MFA.