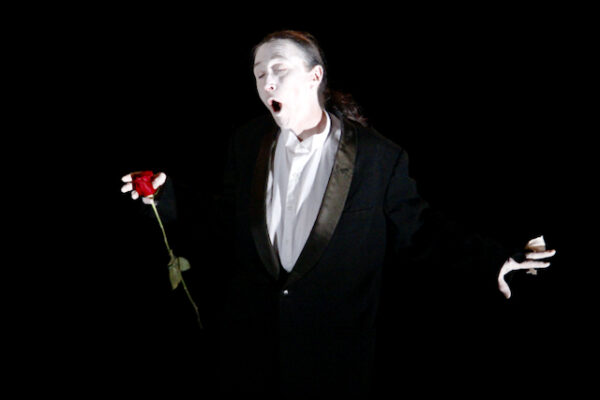 Emerge from the chill of winter to the promise of spring: 1 butoh dancer, 1 grand piano, 2 electric guitars, 2 sets.

For this evening's performance, butoh dancer Joan will be joined by Randy Shay on piano for the first set in a homage to her teacher butoh master Kazuo Ohno. After intermission, Michael Shannon and David Stanford lay down tracks of ambient sounds for a reprise of the second butoh piece she created and performed in Tokyo in the late 1980s.
Known as Kogut Butoh, Joan Laage has been performing and teaching butoh and collaborating with area and international performers since she settled in Seattle in 1990 after studying butoh with masters in Tokyo. Collaborations include Amy Denio, Rob Angus, Noisepoetnobody, Stephen Fandrich, Jeff Greinke, Scott Adams and Seattle Kokon Taiko. Her group Dappin' Butoh was well-known in the Seattle Fringe Theater Festival for 10 years. Joan is a co-founder of DAIPANbutoh Collective (since 2010), which produces an annual butoh festival. Her background includes contemporary dance, traditional Indian and Indonesian dance and music and yoga. Her work is influenced by her years of practicing Tai Chi and her profession as a gardener. This past two summers Joan has been performing free outdoor events with Michael Shannon, David Stanford, Joey Largent and others on area beaches and in public and private gardens. She also created the Keeping Afloat Project with dancers performing on our lakes' docks and swimming platforms.
Randy Shay, a Seattle resident for over 20 years, is a versatile composer/singer/songwriter whose main instruments are piano and guitar, but also bass, mandolin, viol, and zither. He plays original solo compositions at art openings and meditation/dance events and has played in groups such as African music band Spirit of Ojah, folk & blues with Jimmy Free as Acoustic Snacks, and the multi-genre duo Tones with Kirk McNaught. A few influences are: Herbie Hancock, Miles Davis, Paco De Lucia, Ali Akbar Khan, Ravi Shankar, Bob Marley, Ralph & Carter Stanley, Bill Monroe, JS Bach, Dominico Scarlatti, Ray Charles, Robert Johnson, BB King, Bob Dylan, Jerry Garcia, John Lennon. Joan and Randy have been neighbors for 15 years during which Randy has attended all of her Homestages and other performances. Now he's looking forward to their first collaboration of many.
Michael Shannon is a Seattle based musician/performer active since 1979 who has worked with groups in San Francisco such as Plateau Ensemble, Lethal Gospel, < < < (pronounced 'ku ku ku'), Aquarium Music, Joyo, Kahunas, Earnerve, Blue World, Appliances, Wish Radio, Broken Mask, Trigram and in Seattle with the Animist Orchestra, Aono Jikken Ensemble in addition to producing solo material. He has also composed for and worked as a sound designer for a number of Seattle-based modern dance choreographers. His solo work has been released as a series of cassettes by Joy Street Studios (his own label), and on many cassette/CD compilations around the world. He is featured on the CDs, Meander by Blue World, and Coincidentiae Mirabiles with Jeph Jerman, Dave Knott, Susie Kozawa, and Miroslaw Rajkowski, as well as releasing a solo LP, Laguz, on Anomalous Records. His work involves improvised interactions of East Asian, North African, Middle Eastern, and western instruments, with tape, field recordings and electronics that result in unique compositions of quiet, stately beauty.
Originally from Massachusetts, David Stanford's music includes creating soundtracks, electronic and classical. He studied at Cornish College of the Arts. David has played with Brendan Murray, Jason Lescalleet, Animist Orchestra, Eye Music, and Gyre.
COVID-19 PROTOCOLS: Following current mandates from King County & WA State public health officials, all audience members at this performance will be required to wear masks regardless of vaccination status. Proof of vaccination status and/or recent negative COVID test result will be required for entry. Windows will be open, weather permitting. Given the constantly changing nature of the pandemic, all events are subject to cancellation on short notice. Check back here on the day of the show for updated info.