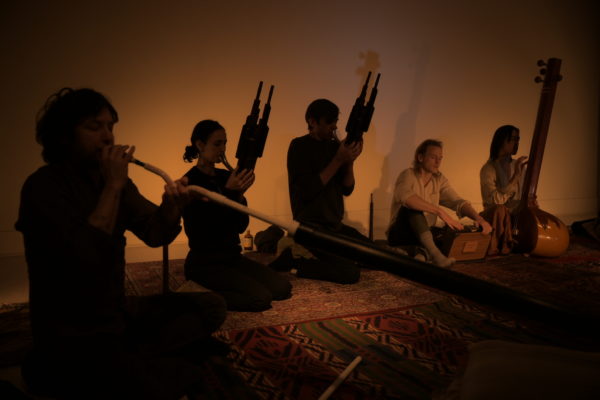 A durationless composition for deep winter in honor of Faquir Pandit Pran Nath (1918-1996) and his many disciples that continue to carry his tradition through time . . .
Selected Drift in Dream Stasis is a long-form work exploring the elimination of time and thought. Through slow, delicate movement of an unfixed duration, the piece shapes an environment that invites both performers and listeners to dissolve into a state of spiritual unity, or, deep stasis. Composed in a dissonant combination of just intonation and equal temperament within Pandit Pran Nath's 12-note Raag Bhairavi, the work will weave pure intervals and harmonic beating amongst a 12-person ensemble, utilizing a continuous drone of acoustic instruments to serve as an expanded alap in the Kirana tradition. Although the work may seem to be primarily a sonic experience, it is just as much a practice of the physical body. Applying theories and methods derived from study of Butoh, Sufism, meditation, and Pran Nath's methods of Riyaz, the work seeks to integrate the awareness of the body and breath equally with sound.
The performance will be held under warm, dim light on an ornate installation of rugs and floor pillows. Listeners are encouraged to bring blankets and items comfortable to them to the space.
Performed by Dhikr al-Fana' Time Communion:
Katrina Wolfe – Riley/Leedy Miraj tambura
Jocelyn Beausire – solo voice
Joey Largent – solo voice, shehnai, composition
Noel Kennon – viola, voice
John Teske – double bass
Sasha Leon – sheng, drone voice
Kyle Griesmeyer – sheng, drone voice
Zack Wait – just intonation reed horns, shehnai, drone voice
Brendan McGovern – just intonation reed horns
Sam Tullman – shruti box, drone voice
Russell Christenson – harmonium, drone voice
Others to be announced.
Joey Largent is a composer, movement and performance artist based in Seattle. His current work draws from ongoing vocal study in the Kirana style of North Indian Classical music under Rose Okada, disciple of vocal master Pandit Pran Nath, and student of Terry Riley and La Monte Young.