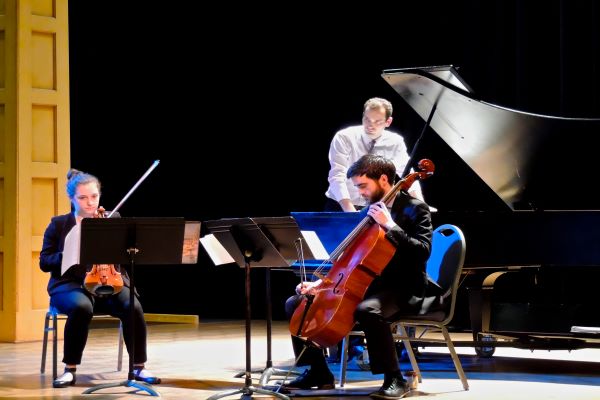 The Morsel Trio, joined by guest artist Natalie Ham, will perform pieces by Charles Ives and George Crumb, in addition to a new piece by Yiğit Kolat and an arrangement by Luke Fitzpatrick.
This concert will showcase two classic 20th-century pieces for trio, a world premiere, and a new arrangement of a Baroque opera aria. The program begins with Charles Ives' Piano Trio. Finished in 1911, the Trio still sounds original over one hundred years later. It includes a clever variety of semi-disguised American folk tunes, hymns, and college drinking songs from the early 1900s. This will be followed by an innovative arrangement for violin and piano by Luke Fitzpatrick of the aria Sposa son disprezzata, then a brand-new piece for trio by Yiğit Kolat. To conclude, flutist Natalie Ham joins the group for the beautiful, blue-lighted glow of George Crumb's Vox Balaenae ("Voice of the Whale").
Steven Damouni (piano), Emily Acri (violin), and Chris Young (cello) started playing together in 2017 as doctoral students at the University of Washington. They named themselves "Morsel" in honor of a favorite breakfast restaurant that hosted many pre-rehearsal meetings.