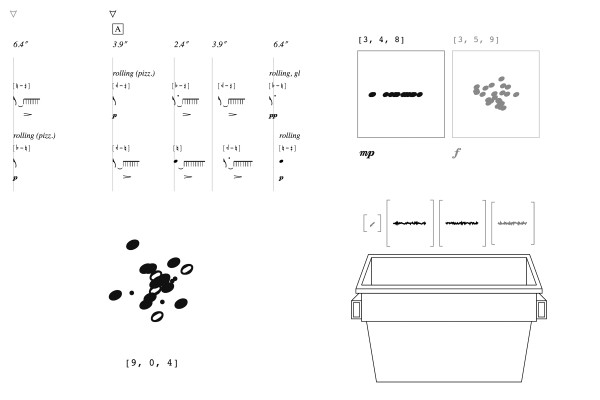 vectorscores is a new series of dynamic compositions by Seattle composer John Teske. The scores are written algorithmically so the works as a whole are crafted but the details are unique for each performance. The project is a continuation of John's work with graphic scores and alternate notation systems and builds on the practice of algorithmic and generative music of the past six decades.
John has been exploring ways to express complex ideas to musicians given limitations on rehearsal time, funding, and location. With vectorscores, he is using web technology to create scores and parts for musicians that use animation to present musical material, generate and update parts in real-time, and allow a musician's choices to influence other players' parts.
vectorscores is iterative and transparent, with a public code repository and the latest progress published to the website. The project is a continual work in progress, with every rehearsal and performance helping the composer further shape the works and clarify notation.
vectorscores is supported by the Seattle Office of Arts & Culture.
Seattle-based composer John Teske writes contemporary concert music and creates site-specific concert experiences. Many of his works utilize graphic elements and alternate notation systems to craft works that maintain an organic feeling. His recent work includes topographies, a series of musical contour maps through which musicians navigate, site-specific performances in Seattle parks, and a series of works for chamber orchestra exploring consciousness and awareness. His music has been performed across the United States, in South America, France, and Russia, and has received support from the Seattle Office of Arts & Cultural Affairs, the Jack Straw Foundation, and the City of Seattle. John is also an organizer and curator of new music, including the Seattle Composers' Salon, a presentation of local composers that facilitates experimentation and discussion.
Sean Hamilton is a percussionist, composer, and improviser whose interests primarily lie in the conjunctions of new music, electroacoustic music, free improvisation, experimental music, and interdisciplinary projects. Sean has served as an artist-in-residence with Leeds Improvised Music and Experimentation (LIME) in Leeds, UK, and has been a featured artist on WKCR-FM New York, WMNF Tampa, WSLR Sarasota, at the Asheville and Orlando Fringe Festivals, the Anxious Sound Series in New Orleans, Art in Odd Places Orlando, and the 2017 SEAMUS National Conference. His playing can be heard on his solo albums LOCI and LOCI // Live on WKCR, and as an ensemble member on albums with the McCormick Percussion Group, the Hamilton-Suarez Duo, the Jamison Williams Trio, and Mechanical Bull.