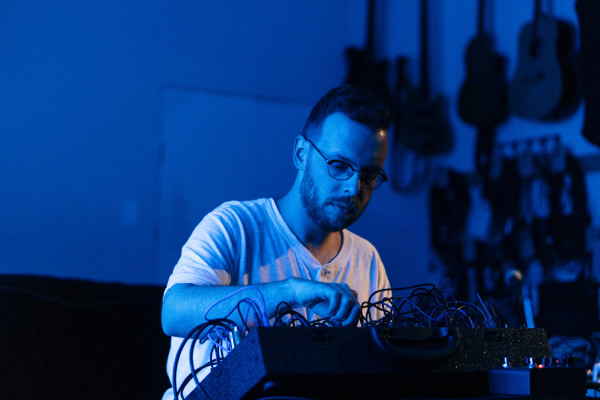 Three solo electronic performances:
Karl Fousek (b. 1984) is a musician and composer. His works explore the sonorities of electronic sound synthesis algorithms, analog and digital, in a variety of contexts: from improvised music, to generative composition, to drone and minimalism. As a performer he is committed to the pursuit of a truly "live" electronic music, participating in both concerts for solo synthesizer and in group improvisations alongside electronic and acoustic instrumentation. His music has been published internationally on labels such as Second Editions (DE), Dinzu Artefacts (US), Mondoj (PL), an others; and he has been featured in concert at MUTEK, Cluster New Music + Integrated Arts Festival, The Banff Centre, Sounds Like Audio Arts Festival, Vector Festival, and elsewhere. As collaborator Karl has worked with musicians Roger Tellier-Craig, Yves Charuest, and Nicolas Caloia; artist David Hartt; and filmmaker Dan Brown amongst others. As an educator he has given lectures and workshops on sound synthesis, performance, and algorithmic composition at Parsons School of Design, Université de Montréal, and many of the festivals at which he also performs. Karl is currently based in Vancouver, British Columbia, Canada.
Emerging from a love of early electronics, concrete/tape music, soundtracks and early new age, Norm Chambers creates worlds of sound that touch on many elements and moods, from spatially motivated ambient to aspects of minimalist composition and improvisation. Chambers utilizes an array of synthesizer equipment to achieve his sounds, in addition to field sounds and occasional acoustic elements
RM Francis is an artist living in Seattle working with computer-generated sound via recording, installation, and performance. His dense, kinetic compositions draw upon synthesis techniques specific to the history of computer music from the mid-twentieth century to the present. His work has been published by DRAFT, Agents of Chaos, nada, atrium and is forthcoming from Conditional. He is also a member of Mesh Collaborative, a computer music ensemble employing network architecture to explore novel modes of collective authorship and human-computer collaboration.