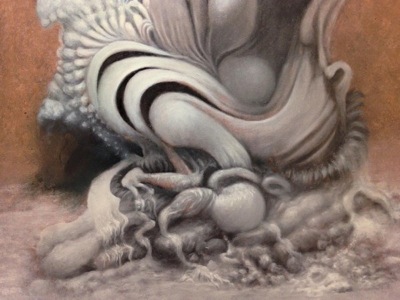 In August 2017 musician and artist Matt Shoemaker took his own life. Performing in his honor are long-time friends and collaborators:
Climax Golden Twins
"Timeless super-freaks and masters of suspension" (Doug Haire, Sonarchy Radio). Climax Golden Twins emerge from hibernation for this special show, their first in many years.
Jim Haynes
Internationally exhibiting visual and sound artist, Jim Haynes sums up his work with the phrase: "I rust things". He does indeed, creating work of strange, abstract and visceral beauty. He runs the Helen Scarsdale Agency, which has released many seminal audio works of experimental, noise and sound art.
Jesse Paul Miller
Jesse Paul Miller is an artist who travels to Southeast Asia, often returning to Indonesia (Java, Bali). He is inspired by what he sees and hears, gathering audio, photography, video, and making paintings and art books during and after these trips. Looking For Number 23 / Masa (Epoch) is a short film inspired by his friendship with Shoemaker.
Dave Knott
Improvisor, string specialist and music therapist.
Eric Lanzillotta
Eric Lanzillotta is the founder of Ri Be Xibalba, Eye Music and Anomalous Records, one of the finest and most uncompromising distributors and labels devoted to experimental music and sound art.
For nearly two decades Matthew Thomas Shoemaker (Born 1974, Seattle, Washington, USA) created unfolding compositions of depth and intensity, reflective of his unique but troubled vision of the world. His audio work has been released on such labels as Trente Oiseaux (Germany), Helen Scarsdale Agency (USA), Ferns Recordings (France), Elevator Bath (USA), and Masters Chemical Society (USA). His presence in the musical world of the Pacific Northwest will be sorely missed.
In conjunction with this performance, an installation of Matt's paintings and audio will be on view at Seattle's Jack Straw New Media Gallery, from April 13-May 18 under the title Brain Goreng.