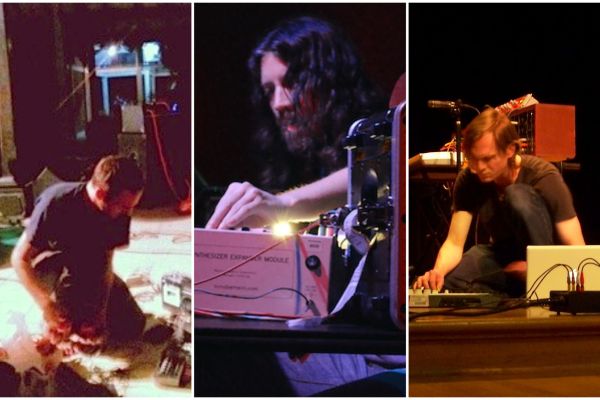 Seattle electronic musicians Matt Shoemaker, Timm Mason, and RM Francis present an evening of musical experimentation consisting of three solo performances.
For nearly two decades artist Matt Shoemaker (Born 1974, Seattle, Washington, USA) has been exploring the strange universe of sound and listening. Using microphones, digital and analog recorders, computers, modular synthesizers, acoustic instruments, and assorted signal processors, Shoemaker transforms music and noise into compositions of uncanny beauty and hallucinatory intensity. Beginning in 2010, he spent two years in Central Java studying the music, art, and culture of the region. His work has been published throughout the world on such esteemed labels as Trente Oiseaux (Germany), Helen Scarsdale Agency (USA), Ferns Recordings (France), Elevator Bath (USA), and Masters Chemical Society (USA). He has performed at numerous universities, dance halls, rock clubs, and art galleries, and he has received commissions for works from across the globe.
Timm Mason is a Seattle artist exploring consciousness and complexity through electronic music. This complexity manifests on multiple levels, such as emergent wave phenomena and programmed organizational systems. Timm is a self-taught musician and a trained software engineer. His current work is focused on bridging these two worlds via a programmable analog/digital hybrid controller designed in collaboration with Kaori Suzuki (Magic Echo Music). This tool serves as corpus callosum, bridging patch-programmable analog synthesis with more modern digital tools. Timm has been performing around Seattle as Mood Organ since 2004 and is a member of Master Musicians of Bukkake, Midday Veil, TJ MAX, and the MOTOR Collective. He curates the cassette label Masters Chemical Society, issuing experimental music by local and international artists. He has contributed to recordings by Eyvind Kang & Jessika Kenney, Jessica Sligter, Wolves in the Throne Room, Splashgirl, and Akron/Family.
RM Francis is a Seattle-based sound artist. His restless, dense computer synthesis work combines systems-based processes and compositional instinct to create hyperkinetic vortices of digital audio. His most recent releases are Attributed Agency (DRAFT) and Recycled Sleep (Agents of Chaos).