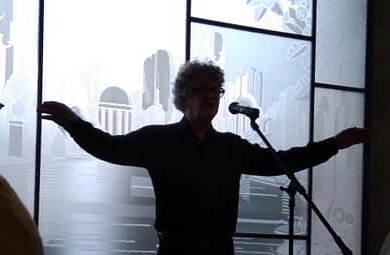 Doors at 7 PM; Performance at 7:30 sharp.
The final installment in 2019's Finnegans Wake series is also this year's premiere, Part I, Chapter 6. In the form of a quiz of 12 questions and answers, James Joyce also described Chapter 6 as a picture gallery of the novel's characters.
Composer Neal Kosaly-Meyer's ongoing Finnegans Wake project is an unprecedented undertaking: to commit to memory and perform all of James Joyce's final novel, one chapter per year over seventeen years, with acute attention to the work's musical detail. Meticulous attention has also been given to the presentation, including liturgical and theatrical elements, and unique approaches to lighting and sound, all deeply informed by the singular language and vision of Finnegans Wake. The striking personality of the Chapel Performance Space itself provides a perfect, and quite Joycean, setting for these performances.
Excerpt from Mexico City Joyce Symposium performance: