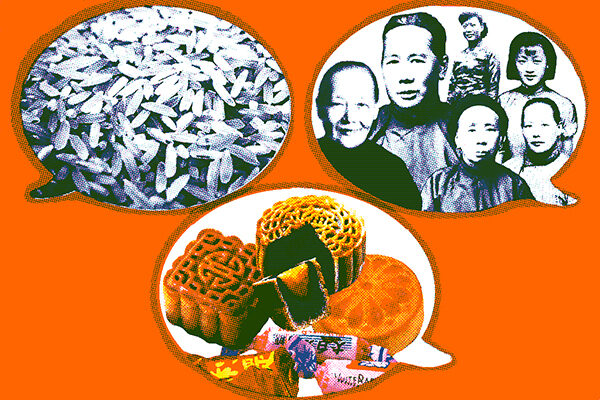 Rice, Blood, Sugar is a piece in three parts that explores the experience of heritage language loss through language as food, language as lineage, and language as delight, performed upon the occasion of the Mid-Autumn Festival, a festival of family and ancestral reunion. The composition and soundings utilize homophones in Mandarin Chinese throughout to amplify the somatic experience for the audience of the attempts towards reaching the perfect tones and pronunciation of a mother tongue, sometimes landing just short, sometimes overshot. The performance will interrogate these accidents of sounding as both composing a bodily diasporic loss and also how these mistakes can generate new meanings and possibilities for the future.
Composer/performer/artist Leanna Li Keith teams up with poet/writer/artist Jenne Hsien Patrick to dream up this experience of sound and language. Both with shared backgrounds as mixed-Chinese Americans, Keith and Patrick have been discussing their experiences with heritage language for the past four years. Rice, Blood, and Sugar is the result of that ongoing conversation and process. The performance of the piece features Keith as flutist/vocalist/conduction artist, Kaley Lane Eaton as vocalist/pianist/banjo player, Heather Bentley as violist/cellist, and Alina To as violinist. Additionally, the performance will be opened by a reading of works by Omar Willey.
Curated by Michaud Savage for Nonsequitur's NonSeq series. This project was supported, in part, by an award from 4Culture.