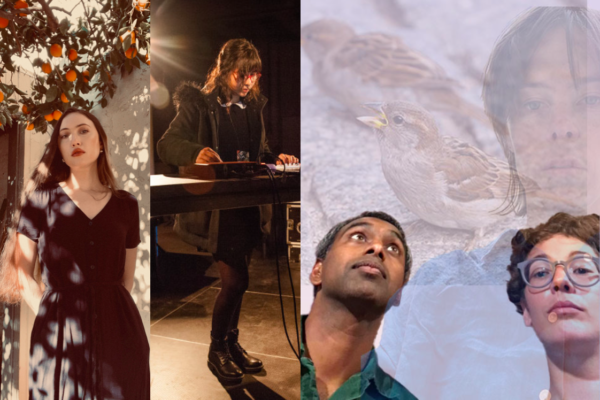 Please note that our building's elevator is now back in service!
Composer/sound artist Breana Tavaglione utilizes composition as a means to paint with sound, creating an immersive sensory experience in which she deconstructs conceptual themes in order to convey a specific mood or aesthetic, transporting listeners to an alternative sonic landscape. She graduated from California Institute of the Arts in 2018 with an MFA Experimental Sound Practices, and from Mills College in 2016 BA Music Composition with an Emphasis in Media Technology and Electronic Music. She is a PhD candidate in Digital Arts and Experimental Media (DXARTS) at the University of Washington. Tonight Breana will present a new work for electronics and live instrumentation, featuring percussionist Matt Camgros.
Laura Luna Castillo is a Mexican multimedia and new technologies artist and composer. Through convergences of time-based media, music, sculpture and generative storytelling Luna explores personal and collective identities shaped by political and intimate spaces. With a passion for machines, generative narratives, and the complexities of memory, she has developed audiovisual performances, installations and hybrid works for festivals such as MUTEK Montréal, CYNETART Festival, and EMPAC (Experimental Media and Performing Arts Center). For this performance, Luna Castillo will create an audiovisual exploration of mnemonic patterns against entropy combining sampling, algorithmic sound processing and synthesizers. Inspired by the mechanisms of the brain to identify, classify and recall patterns of familiarity, a series of audiovisual algorithms are used to extract data medians and averages, compressing and dilating personal, appropriated and imaginary memories.
Alissa Derubeis is an East Coast electronic musician who especially enjoys improvisation with synthesizers and collaborations. Quiet Eyes of Air, her duo project with fellow synthesist Yasi Perera, was born in the spring and tends to emerge in the spring. They will present Guard Less, a triple cancerian presentation based on allowing connection in all of its beautiful complications and consequences. Alissa and Yasi will play modular synths affected by the movements of Em Jones.
Curated for Nonsequitur's NonSeq series by Afroditi Psarra.