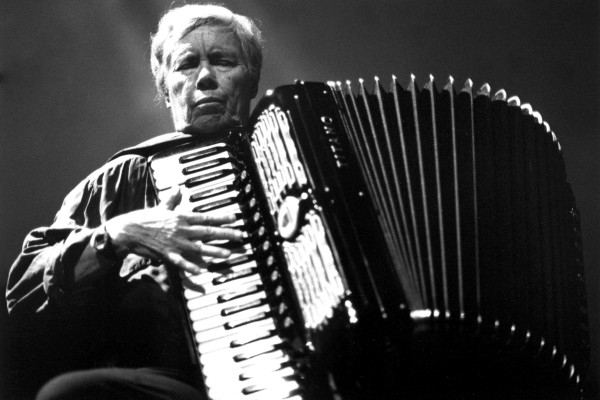 Pauline Oliveros – composer, improviser, electronic music pioneer, accordionist, Deep Listener, teacher, mentor, friend – passed away peacefully in her sleep on the morning of Nov. 24, 2016 at the age of 84. Tonight we honor and remember her with silence and sounding. Enter and exit as you wish, but please do so quietly. Chairs are provided, but if you prefer to sit on the floor, bring a cushion.
7 PM (bell): Silent meditation: "Listen in every possible way to everything possible to hear…and remind yourself when you are not listening."
8 PM (bell): Tuning Meditation (voices only): "Begin by singing a pitch that you hear in your imagination. After contributing your pitch, listen for another player's pitch and tune in unison to the pitch as exactly as possible. Listen again and sing a pitch that no one else is singing. The duration of pitches is determined by the duration of a comfortable breath. The dynamic level is soft throughout the piece. Continue by alternating between the three options described above:
• singing a new pitch of your own that no one else is singing
• just listening
• tuning in unison to the pitch of another singer.
Introduce new pitches at will and tune to as many different singers as are present. Although the dynamic level is soft make your tones available to others."
8:30 PM (bell): Silent meditation
9 PM (bell): End