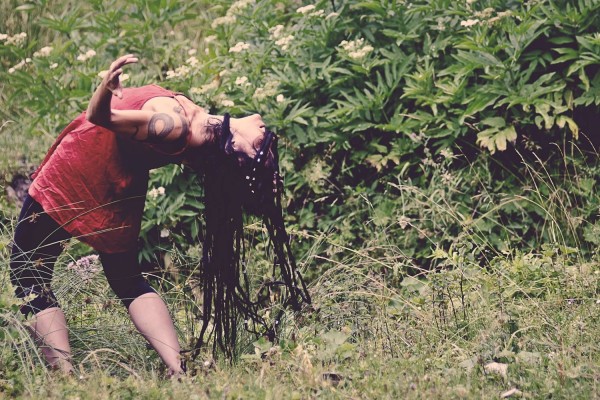 Butoh/sound improvisation with Greg Campbell (percussion), Beth Fleenor (clarinet, voice and percussion), and Vanessa Skantze (Butoh dance).
To translate the invisible wind through the water it sculpts in passing. – Robert Bresson
Greg Campbell (percussion) and Beth Fleenor (clarinet, voice and percussion) join Butoh dance artist Vanessa Skantze for an evening of free improvisation. The actions of deep listening and intuitive visceral response provoke forms and sounds unforeseen; arising in twin spirals of experience and beckoned openness to the moment erupting out of time.
Greg Campbell holds a doctorate in percussion performance with an emphasis on ethnomusicology from the University of Washington, and a masters degree in jazz performance from the New England Conservatory of Music. His doctoral work included a dissertation about the AACM (Association for the Advancement of Creative Musicians) and other free jazz collectives in the United States during the 1960s. He plays drums and percussion in jazz, classical, and other musical contexts, including his long-standing membership in the Ghanaian traditional drumming group Anokye Agofomma. He teaches music courses at several colleges in the Puget Sound region.
Composer/clarinetist/vocalist Beth Fleenor harbors a strong love for variety & all sonic manipulation, moving freely through genres such as jazz, rock, classical, contemporary chamber, Slavic & American folk, metal, musique concrete, ambient & pop. Her work has been heard internationally from 100,000 seat rock festivals, maximum-security prisons, and performance art in rural bars, to art galleries, bunkers, sidewalks, sacred spaces, and some of the most prestigious concert halls, museums, clubs and theaters in the country. Believing that "art is the discipline of being," Fleenor uses sound to open the channels of communication between and within individuals and environments. Her work as been heard in live music, recordings, theater, performance art, installation, modern dance, and film. She believes that an emphasis on creativity in a culture gives rise to creative solutions to social problems.

Vanessa Skantze is a Butoh artist and teacher of yoga and dance from Seattle. She has performed in the U.S. and Europe for over 20 years. She co-founded New Orleans sound/movement ensemble Death Posture in 2002, and collaborates with many renowned musicians including Jarboe and percussionist Tatsuya Nakatani. Skantze has trained with Jinen Butoh founder Atsushi Takenouchi since 2003, and performed with him in the U.S. and Europe. Since coming to Seattle in 2004 she has created numerous ensemble works under the name Danse Perdue as well as solo pieces. In 2013 she taught as part of Lydia Lunch's Post-Catastrophe Collaborative. This past summer she was a movement director and performer for a production of Henry V with Freehold Engaged Theater, which tours correctional facilities in the Seattle area. She will continue to act as teaching artist with Freehold in the women's correctional facility in 2017.