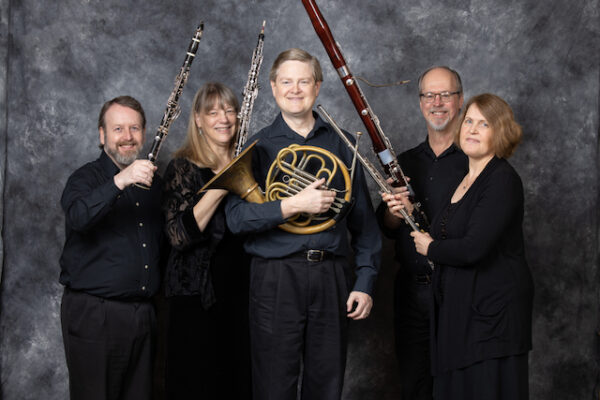 Puget Sounds Wind Quintet members perform with Village Theatre, Fifth Avenue Theatre, Symphony Tacoma, Seattle Symphony/Opera and other groups, and come together to produce their own music in the form of a quintet representing the winds of the orchestra.

The Living & Breathing Wind Music program presents an array of contemporary classical selections by five living composers, ranging from the literal representation of nature sounds in Eric Ewazen's Roaring Fork to the aleatoric In C Dorian by Frank Ticheli, and styles in between. Hear the atonal and abstract, yet alternatingly angry and lyrical 5-4-3 Miniatures by Don Bowyer; Valerie Coleman's upbeat work named after the Swahili word for unity, Emoja; and a world premiere by northwest composer David P. Jones that stretches the technical limitations of wind instruments.
This program is free and open to the public, with gracious support provided through the Music Performance Trust Fund and the Musicians' Club of Seattle.
Online reservations are strongly recommended, as attendance will be limited to facilitate social distancing. We can not guarantee seating for walk-ups
COVID-19 PROTOCOLS: Following current mandates from King County & WA State public health officials, all audience members at this performance over age 5 will be required to wear masks. Additionally, all audience members must be fully vaccinated for COVID-19. Proof of vaccination will be required for entry. Chair seating will be arranged to maintain social distancing; people who live together may group chairs accordingly. Windows will be open, weather permitting. Audience should be aware that the performers will be playing wind instruments.