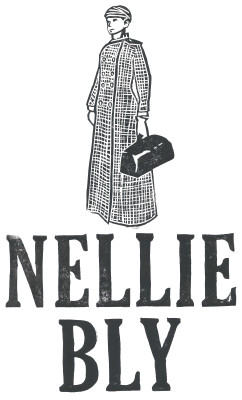 Trumpeter and composer Samantha Boshnack and her Quintet premier a new 4-movement narrative work inspired by the life of 19th century daredevil, feminist, investigative journalist & iconoclast Nellie Bly (1864 – 1922). Boshnack combines exploration of Bly's life with propulsion from her words, incorporating quotes and segments from her books as spoken and sung elements within the suite. This concert is an opportunity to learn about the life of this impactful, yet mostly unknown, iconoclast.
Nellie Bly was a reporter at a time when women were not welcome into journalism, and was a fiery and persistent individual who worked within extreme confines to achieve great things for both the subjects she covered (including mental health and prison facilities), and for women in her field. Boshnack has created a work in four movements highlighting stages and elements of Bly's personality and career: Early Years, establishing her voice, combining elements of punky irreverence, with a yearning to deeply understand the human experience and its unfairness; Asylum Expose, exploring her extreme efforts to write about the atrocities of a mental asylum;  Around the World, tackling her race around the globe to beat Jules Verne's fictional record, while the world cheered her on; and Lasting Legacy, an homage to Bly and the impact she made to those who came after her.
Sam Boshnack Quintet exclusively performs Boshnack's compositions, which fuse many musical styles in propulsive, dynamic compositions, and features Boshnack (trumpets), Beth Fleenor (clarinets/voice), Dawn Clement (piano/keyboards), Isaac Castillo (bass) and Max Wood (drums). This project is made possible with support from 4Culture and Sprout.