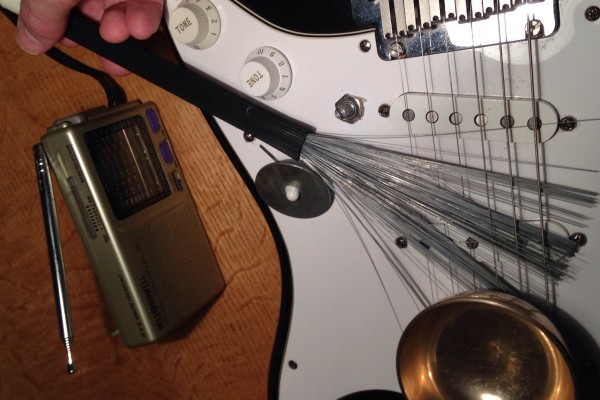 Samuel A. Crome debuts Delicate Air, a long form piece for prepared electric guitar, alto sax, bells and radio. Mr. Crome is an American composer and performer of low-profile sound and performance arts, with an underground music history stemming back some 35 years. He will begin to release an extensive series of limited edition 30-minute cassettes in late 2016, both solo tapes and duo collaborations with Work/Death, Snack Bastards, Sycamorons, Nick Forte, and Leif Goldberg.
Greg Kelley began studying the trumpet at age 10. He attended the Peabody Conservatory of Music in Baltimore, where in addition to studying the Conservatory curriculum, he also immersed himself in a deep study of avant-garde and experimental music, eventually coming to the conclusion that his musical focus fell outside of the academic sphere. After his studies, Kelley moved back to his native Massachusetts, quickly insinuated himself into the local avant-garde circles and soon commenced a period of intense travel and collaboration, bringing him throughout North America, Europe, Japan, Argentina & Mexico. In 2014, he relocated to Seattle. He has appeared on over 80 recordings and plays in a number of long running groups including Nmperign (with Bhob Rainey), the BSC and Heathen Shame (with Wayne Rogers & Kate Village of Major Stars). Other collaborators have included Jandek, Keiji Haino, Donald Miller (Borbetomagus), Anthony Braxton, Kevin Drumm, Christian Wolff, Pauline Oliveros, Joe McPhee and Lionel Marchetti. In addition to playing the trumpet, Kelley has also recorded using electronics and musique concrete elements, sometimes utilizing trumpet-based sound sources, other times not.
Cameron Shafii is a San Francisco-based composer practicing generative and systems music. His compositions are inflected by software processes involving spectral analysis, convolution, recombination file handling, and stochastic elements. His works do not impose upon the listener any temporal scheme – 'engagement/disengagement' in Greimassian terms – refusing to form what we call a narrative tension. But his music has kinetic movements and climaxes; a functional exploration of sounds that range from microscopic and minimal, to macro and maximal. Shafii has remixed and reprocessed works by CoH, Dalglish and Sote. Currently, he is working in collaboration with Japanese sound artists Kozo Inada and Christophe Charles for a forthcoming 2xLP titled i[] . He runs the label Ge-stell.
DJ Degenerate provides the exquisite sonic ambiance between sets.