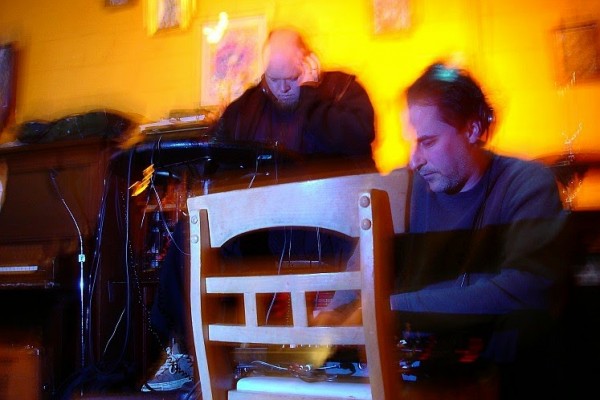 impacttestdummy members Gregor Visconty and Mike Todd formed in 1987 in Olympia, WA. In a nod to the first piece they recorded which utilized the use of tape loops, using five 1/4″ reel to reel tape machines and pre-recorded tape loops impacttestdummy will remix a recording of The QT, a duo from Santa Fe. Accompanying on drums are Mark and Cami Hanna.
PRISONFOOD delves deep into the sonic abyss, utilizing fresh loops and spicy effects to create lush atmospheric dishes that can satisfy an ever expanding palate. This culinary master doesn't always stick to the recipe book, for when you're cooking in someone else's kitchen, you might need to improvise. Abraham Moses, the driving impetus of the project is usually avoiding the lime-light, working diligently behind the scenes with local Seattle off-kilter entity, Pent Up Release, to fruition hot pockets of controlled chaos.
Noisegasm is Brad Anderson (keyboards, computer) and Greg Weber (guitar, electronics.) They play electronic tone poems based on long forgotten mythologies and auditory hallucinations. With influences ranging from Eno to Shostakovich and from Philip Glass to Blue Cheer they both soothe and alarm the listener with long ambient drones, skittering electronic noises, classical cadences and all-out aural bombast.