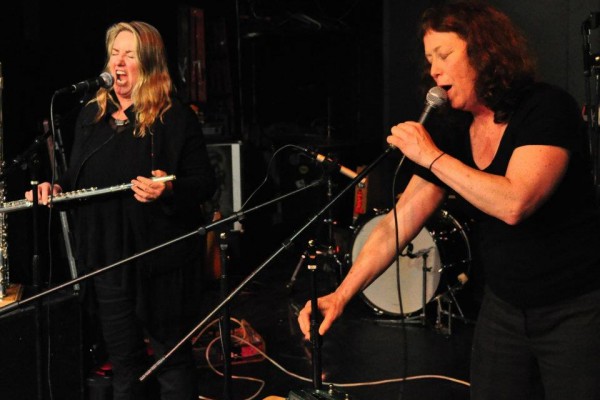 WIND TALKERS is an innovative music duo comprised of veteran singers and multi-instrumentalists Amy Denio and Emily Hay. They have been collaborating as improvisers and co-conspirators at venues and festivals since 2010. The original Windtalkers were the Navajo code signalers recruited by the US during World War II to send secret messages encrypted in the Navajo language which the enemy could not decipher.
Hay sings, plays flute, bass flute, and works with electronics. Denio sings, plays alto sax and clarinet, and works with electronics. Both have musical histories and reputations as powerful musicians whose works cross boundaries artistically and geographically. Together they create a deep and empathetic musical synergy, not often found in the male-dominated world of improvised music. Their innovative collaborative efforts elicit virtuosity and humor, combined with gorgeous melodic and harmonic themes.
Emily Hay is an active member of the Los Angeles and 'Left Coast' experimental and improvised music scenes, having performed and recorded with groups such as Hay Fever, U Totem, Polarity Taskmasters, Adam Rudolph's Go: Organic Orchestra, the Vinnie Golia Large Ensemble, Mooncake, Jeff Kaiser's Okodektet and many others. With record releases on Cuneiform Records, Recommended Records, Meta Records, Public Eyesore and a host of other labels, she has performed and toured throughout North America and Europe.
Inducted into Seattle's Jazz Hall of Fame in 2015, Amy Denio is a prolific composer, improviser and record producer based in Seattle. Founder of groups such as The Tone Dogs, the Tiptons Sax Quartet, The Danubians and Ama Trio, she has been playing festivals and creating multi-media spectacles for over 25 years in North America, throughout Europe, Turkey and Russia, in Taiwan, Japan, India and South America. She has produced over 45 recordings for Knitting Factory, ReR Megacorp, RecRec, Cuneiform, and her own record label, Spoot Music.