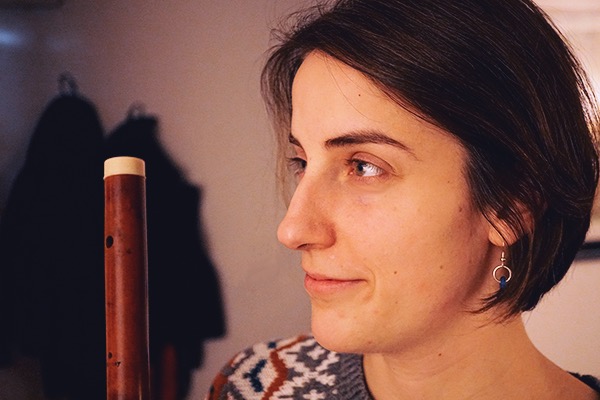 Sarah Pyle offers an evening of experimental music for baroque and modern flute. Inspired by styles ranging from the Early Baroque to musique concrète to noise music and beyond, this program explores tropes of flora and fauna across more than 400 years. The set features three world premieres for baroque and modern flute by Sarah and Seattle composers Andrew Stiefel and Daniel Webbon, and includes works for solo flute by American composers Elizabeth Brown and Vivian Fine, along with improvisations on baroque melodies by Francesca Caccini.
Program:
Elizabeth Brown: Botanical Obsessions for solo flute (2000)
Andrew Stiefel: Let us whisper our names into the trees for flute, baroque flute, and electronics (premiere)
Sarah Pyle: Improvisations on three secular monodies by Francesca Caccini
Daniel Webbon: To Square a Circle for baroque flutist as percussionist (premiere)
Sarah Pyle: Beehive for flute and electronics (premiere)
Vivian Fine: The Flicker for solo flute (1973)'
Sarah Pyle is a founding member of the Seattle and Portland-based contemporary chamber ensemble Sound of Late, where she has premiered more than forty works by American composers at concerts throughout the Northwest.
As a piccolo specialist, she was awarded first place at the 2015 Kujala International Piccolo Competition in Chicago. She has played flute and piccolo with the Oregon Mozart Players and has played substitute flute and piccolo with the Seattle Symphony and the Eugene Symphony Orchestra.
Her current scholarly interests span a wide range of topics and eras regarding music and gender, from promoting current musical voices through artistic planning for Sound of Late to analyzing and interpreting musical iconography of the Late Renaissance and Early Baroque eras.
Sarah studied flute with Molly Barth, Michel Debost, and Kathleen Chastain. She holds master's degrees in flute performance and musicology from the University of Oregon as well as a B.M. in flute performance from Oberlin Conservatory and a B.A. in environmental studies from Oberlin College. In her spare time she explores forests and fiber arts.