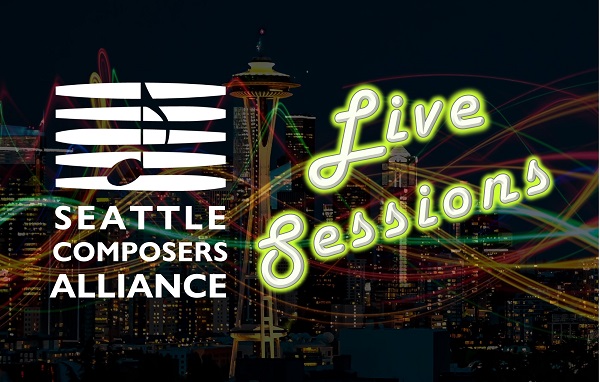 The Seattle Composers Alliance proudly presents Living Strings, the latest installment of its popular Live Sessions concert series. Original compositions for string quartet, written by members of the Seattle Composers Alliance, have been selected for public performance by Arcobaleno Strings. Featured composers: William Aleshire, Galina Belolipetski, Lawrence Brown, Mariza Cabral, Amy Denio, Jenny Davis, Freddy Fuego, Gretta Harley, Ramgopal Krishnaraju, Anne Merryfield, Richard Rodseth, Seven Sky, Jacob Stenzel, Oren Sternberg, Kai Strandskov, and William Zander. Compositions were chosen from a recent Call for Scores to be performed in the ongoing Live Sessions concert series, which is open to the public.
The Seattle Composers Alliance (SCA) was founded in the early 2000s by a small group of composers and audio professionals, and has since expanded to include 60+ music creators who compose for film, video games, dance, concert performances, and much more. Its mission of Connecting Seattle's Music Creators to Community, Education, and Opportunity is powered by the generosity of donations from music lovers around the world, and is fiscally sponsored as a non-profit by Shunpike. The Seattle Composers Alliance Live Sessions Concert Series has become a post-pandemic success story in Seattle, featuring the original works of SCA members performed quarterly by renowned Seattle-area musicians.
Arcobaleno Strings is a group of Seattle area musicians founded in 2008 by cellist Nicole Williams. The ensemble performs regularly throughout the Puget Sound area at both private and public events, and explores an expansive variety of genres including classical, rock, jazz. All of its musicians fit uniquely into the Seattle area music scene playing with many different ensembles, teaching in varied environments, and creatively exploring their own music projects.