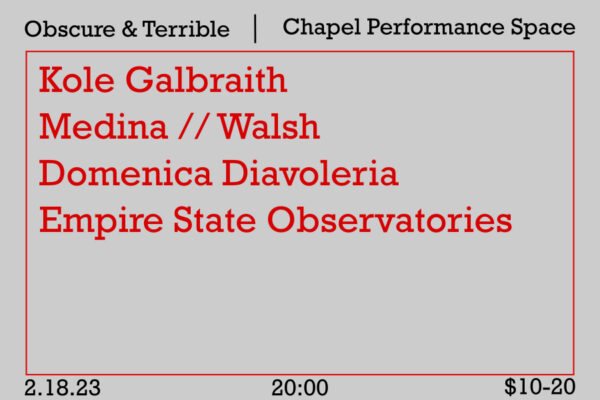 Local experimental label Obscure & Terrible presents a selection of their roster, featuring Kole Galbraith, Medina/Walsh, Domenica Diavoleria and Empire State Observatories. With a focus on drone, noise, improv and electro-acoustic music, Obscure & Terrible has been bridging Northwest sound artists with national and international collaborators since 2020.
Olympia-based musician Domenica Diavoleria recently released her album "Forever Your Salesgirl" on Obscure & Terrible, which Dave Segal describes as, "ambient music of great desolation and eeriness." The album focuses on "hauntology" with clouds of synthesizers serving as Domenica's pallette. 
Seattle guitarist/keyboardist Sean Curley has been generating music for the past decade under the alias Empire State Observatories. The project draws comparisons to Fripp & Eno's ambient works and Loveless' wall of sound guitar distortions.
Seattle and Estonia-based artist Kole Galbraith creates both fast-frenetic harsh noise pieces and long-form drone abstractions, which are described by French artist Golem Mechanique as, "somewhere between Bernard Permegiani walking on fire and an unknown Stalker soundtrack. Brutal literature. Every sound is relevant."
Duo Medina/Walsh is a collaboration between artists Josh Medina and Paurl Walsh, whose almost decade long collaboration has ranged from electro-acoustic americana music to minimal audio-visual installations. Ever changing and evolving, this rare performance follows the release of Walsh's solo endeavor into abstract techno via his album "Pocket Worlds" (Debacle/Yield).