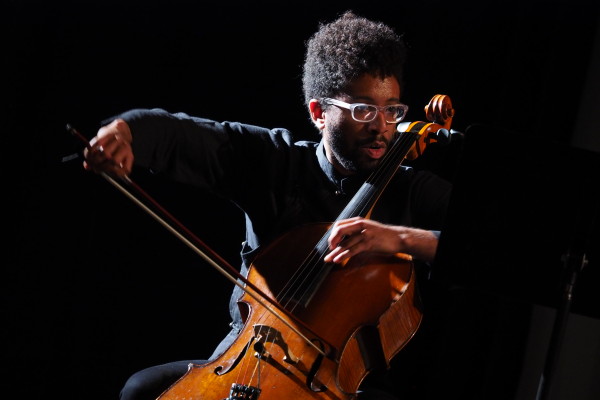 Read a preview in the Seattle Times.
Edward Hamel Gray Neon Life – Seattle Premiere
Pierre Alexandre Tremblay asinglewordisnotenough 3 (invariant) – Seattle Premiere
Alvin Singleton Argoru II – Seattle Premiere
George Lewis Not Alone – Seattle Premiere
Company is a state of being here, in a program which speaks in worlds. In Edward Hamel's Gray Neon Life the cellist is his own companion, uttering words which are not so much spoken over the music as sprayed on and under it, made both surface and core: adornment and essence. This double figure – cellist and voice in one – is Seth Parker Woods, and the piece in both concept and execution is a vehicle for his co-creative input, ranging from the precise choice of pitch material to the derivation of the texted component from the SAMO© tag of Jean-Michel Basquiat's and Al Diaz's New York street art, of which Woods is an aficionado. What Hamel and the rest of the composers featured tonight make from it is a sort of manifesto for city life and city art, summoned into existence by a harmonic double stop which, recurring as a fourfold refrain, finally offers a tentative way out … or on.
On, at first, into a hall of mirrors. The three remaining works on this programme – two of them, like Gray Neon Life, written for Woods – surround the cello with spatial silence and electronically produced sounds, and in the first two, by Alvin Singleton and George Lewis, these sounds are derived in real time from the cello's own material. In Pierre Alexandre Tremblay's asinglewordisnotenough3 (invariant) the sound sources are more diverse, and yet the work's worlds are again conjured forth by this lone yet multiple figure. Here he is at the center of it all: muse and master of ceremonies, devising it all for company. — John Fallas/SPW
Critiqued as "a cellist of power and grace" (The Guardian) and possessing "mature artistry and willingness to go to the brink," Seth Parker Woods has established a reputation as a versatile artist straddling several genres. Outside of solo performances, he has performed with the Chineke! Orchestra (UK), Ictus Ensemble (Brussels, BE), Ensemble L'Arsenal (IT), zone Experimental (CH), Basel Sinfonietta (CH), New York City Ballet, Ensemble LPR and Orchestra of St. Luke's (US). A fierce advocate for contemporary arts, he has collaborated and worked with a wide range of artists ranging from the likes of Louis Andriessen, Elliott Carter, Heinz Holliger, Helmut Lachenmann, and Liza Lim to Peter Gabriel, Sting, Lou Reed, Dame Shirley Bassey, Rachael Yamagata, as well as visual artists Vanessa Beecroft, Aldo Tambellini, Jack Early and Adam Pendleton.
Holding a Ph.D. from the University of Huddersfield, his principal teachers were Thomas
Demenga, Lucas Fels, Frederik Zlotkin, and Daniel Morganstern. In recent years he has given talks, workshops and performances at Royal Albert Hall (BBC Proms), Musée d'art Moderne et Contemporain (FR), Le Poisson Rouge and the Bohemian National Hall (USA), Cafe OTO (London, UK), Huddersfield Contemporary Music Festival (UK), Klang Festival (Durham, UK), INTER/ actions Symposium (Wales), ICMC-SMS Conference (Athens, GR), NIME Conference (London), Sound and Body Festival (Lille, Brussels), Instalakcje Festival (PL), Virginia Tech, La Salle College (Singapore), and FINDARS (Malaysia) amongst others. Recent awards and acknowledgements include Artist of the Month for Musical America, an Earle Brown/Morton Feldman Foundation Grant (USA), McGill University- CIRMMT/IDMIL Visiting Researcher Residency (CA), Centre Intermondes Artist Residency (FR), Francis Chagrin Award (UK), Concours [Re]connaissance – Premiere Prix (FR) and the Paul Sacher Stiftung Research Scholarship (CH). Read more in Strings and Musical America.
Presented by Nonsequitur.