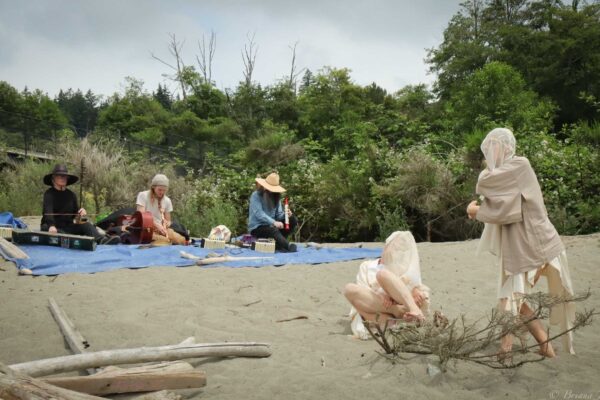 Inspired by a variety of collaborations over the past few years, specifically outdoor performances on the beaches of Shoreline, Michael Shannon, David Stanford, and Joey Largent will come together for an evening of continuous improvisatory amplified drone music. All of their collaborations thus far have been to accompany dance, but this evening will offer an exploration into the deeper subtleties of sonic exploration. Using a very simplified setup, the performance will feature Michael on amplified erhu, David on amplified guitar, and Joey on amplified cello. 
The performance will last 1-3 hours without pause. Come to rest, dance, listen. 
Michael Shannon is a sound/recording artist, musician, photographer, and performer of experimental media, based in Seattle. He began performing in the punk clubs of San Francisco in the late 1970's evolving performance and sound designs through various venues and media, specializing in the use of a variety of string instruments from Asia, field recordings, percussion, sound objects, electro-acoustic strings, and electronics. In San Francisco, he started Joy Street Studios, the name for all of his sound art productions and his studio in 1983 to the present. First releases of audio works in the form of cassettes began in 1987, followed by an LP Laguz on Anomalous Records and CDs on various labels around the world. Presently a member of Seattle-based performing/recording groups Gyre, Eye Music, Yuan, Echore, Aono Jikken Ensemble, Animist Orchestra, Broken Mask (Seattle-San Francisco). Previous San Francisco bands: Appliances, Kahunas, KuKuKu, Earnerve, Joyo, Lethal Gospel.
Originally from Massachusetts, David Stanford's music includes creating soundtracks, electronic and classical. He studied at Cornish College of the Arts. David has played with Brendan Murray, Jason Lescalleet, Animist Orchestra, Eye Music and Gyre.
Joey Largent's work focuses on exploring long-duration compositions and improvisations for acoustic ensembles and solo performance. Beyond generating music alone, his goal is to offer a space for introspection, beauty, and connection. Through site-specific performances and field recording, he seeks to connect daily experience more profoundly with the impermanent harmony of the natural world. He has collaborated with numerous dancers, musicians, and interdisciplinary artists over the years, and has studied North Indian Classical singing with several disciples of Pandit Pran Nath, including Michael Harrison, La Monte Young, and Rose Okada.
(Photo by Briana Jones, July 2nd, 2022 – Richmond Beach with Joan Laage and Katrina Wolfe)