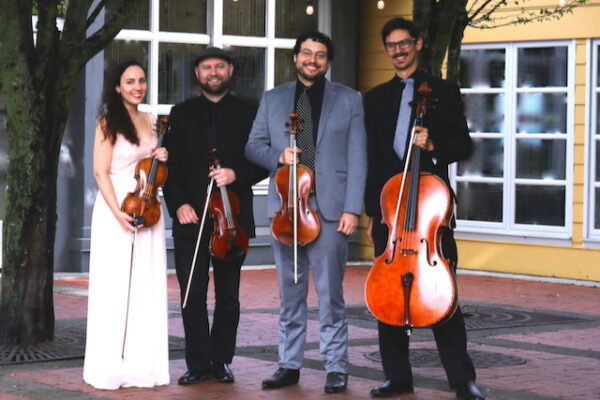 A daring program by the arx duo and Skyros Quartet mixes rhythm and melody in an intricate and beautiful tapestry. New works commissioned by the ensembles are featured alongside other wonderful pieces from the 20th and 21st centuries. Featuring new works from Michael Laurello and Christopher James Dietz, the combination of string quartet and percussion is powerful and unique.
Founded in 2011, Seattle's Skyros Quartet (Sarah Pizzichemi, Brandon Vance, Justin Kurys, and Willie Braun) brings a bright and inventive style to the stage, having concertized extensively on multiple continents. Entering their eleventh season together, they have been heard at some of the most prestigious venues and music festivals including the Aspen Music Festival and School (Aspen, Colorado), Seattle Chamber Music Society (Seattle), Deer Valley Music Festival (Park City, Utah), the Sunflower Music Festival (Topeka, Kansas), Quartet Fest at Sir Wilfrid Laurier University and the Kitchener-Waterloo Chamber Music Society (Ontario, Canada), and at the University of British Columbia concert series (Vancouver, Canada). Skyros has also performed on tour in Xi'an and Hangzhou, China. In 2019, Skyros had the honor of giving the West Coast premiere of the newly composed Piano Quintet by Philip Glass with concert pianist and commissioner Paul Barnes. In 2017, Skyros, along with cellist Eric Wilson (Emerson String Quartet emeritus), gave the Canadian premiere of Mikołaj Górecki's Elegy for Cello and String Quartet at the University of British Columbia.
Mari Yoshinaga and Garrett Arney are the artistic force behind arx duo. Their mission is to forge new connections and artistic pathways, or "arcs," through percussion chamber music. They are dedicated to expanding percussion chamber music by commissioning new creative works, educating and inspiring young artists, and inviting audiences across the globe to engage with new and vibrant musical experiences. Thriving on collaborative artistic experiences, arx has worked with countless composers, chamber ensembles, community ensembles, and symphony orchestras to bring new percussion music to life. They have premiered, performed, or taught new pieces for percussion instruments across the United States, in Japan, the UK, Canada and Ghana. Committed to inspiring the next generation of creative artists, their non-profit Arx Music Association seeks to provide musical opportunities for early career, student, and avocational musicians. They have served as guest teachers or artists in residence at universities and conservatories across the US, and currently serve on the faculty of the Curtis Young Artists Summer Program.