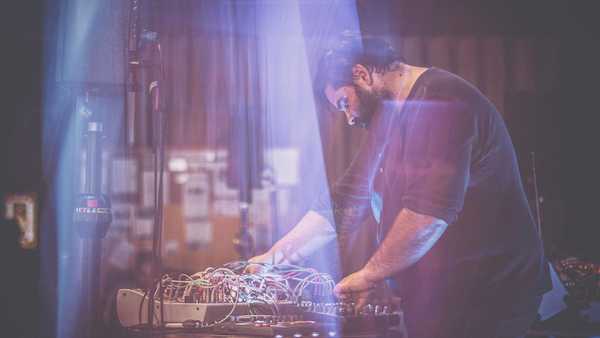 Doors: 7:30 / Music: 8:00
Basement State presents r beny, Leandrul, and What We Talk About for an immersive evening of textural ambient soundscapes and melodic waves of sound. Interludes and Ambience: Planar Drift. Live Visuals: Former.
r beny is an ambient electronics project from Northern California-based musician Austin Cairns. It is an outlet for the processing of the volatile conditions of emotion and nature, primarily expressed through the use of synthesizers, samplers, and other electronic instruments. His most recent release, we grow in a gleam, is a 20-minute long deep listening experience self-released on BandCamp in April 2021.
Leandrul is Crosby Morgan, a folk artist and electronic music producer currently based in Seattle. She writes, produces, and performs her original songs, relying heavily on the vocal textures she creates, along with her poignant lyrics over a deeply melodic palette of synths and real instruments. Her latest release from March 2021, Psychosis of Dreams, is a chronological aural journey through her personal experience with mental illness. Crosby plans to release her next album, Exiled From Earth, in mid 2022.
Seattle-based What We Talk About utilizes synthesizers of all sorts to conjure up hazy illusions of past light and time. Drawing heavily upon his waking dream state, What We Talk About aims to create a space in which to bask in the golden aura of what we can no longer have. He is a co-founder of Basement State.
Basement State is a Seattle-based live electronic music collective that curates in-person and online events where resident artists and guests perform LIVE original music across an array of electronic genres. Their first compilation release, Vol. I, was released on cassette and in digital form in August 2021.
SAFER SPACE: We do not tolerate actions or displays of sexism, bigotry, racism, transphobia, homophobia, misogyny, and ableism. Any form of harassment will involve immediate removal from the show and a lifetime ban from future Basement State events.
PHONE /TALKING: Out of respect for performers and other attendees, please silence and avoid using phones and minimize all conversations with other guests during performances.
COVID-19 Protocols: To help ensure the health and safety of those in attendance and vulnerable populations in our community, we will be requiring proof of vaccination and a mask for entry (can be a vaccination card or photo of vaccination card). A face mask covering your nose and mouth must be worn while in the building. You will be asked to leave without refund if these rules are not followed. Additionally, we will be limiting attendance to help provide space for social distancing. Because of this, we HIGHLY recommend purchasing a pre-sale ticket to guarantee admission.