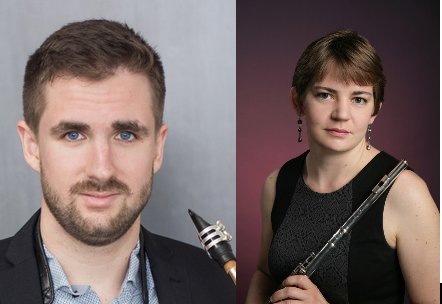 Enjoy flute and saxophone music from the 1960s to today performed by Soren Hamm and Cassie Lear. These two award-winning musicians will perform pieces from all over the world including works by Takemitsu, Iannaconne, Crockcoft and more, ranging from impressionist-inspired music to contemporary showpieces to modern minimalist works.
Saxophonist Soren Hamm has been heard on the popular radio programs Performance Today and Northwest Focus Live, and has performed repertoire spanning the Renaissance through the avant-garde in concerts across North America. Whether commissioning new repertoire from rising composers, or collaborating in innovative chamber music projects, Soren strives to push the boundaries of the saxophone as a classical instrument and invigorate audiences with exciting new sound worlds. He was a winner of the 2018 Frances Walton Competition, and competed as a national finalist in the MTNA Competitions. Soren holds degrees in saxophone from Bowling Green State University and the University of Oregon, with additional study at Western Washington University.
Flutist Cassie Lear has played at the NYC Electroacoustic Festival, SEAMUS Conference, the International Computer Music Conference, and LaTex Electroacoustic Festival, where her performance was awarded Audience Choice. She is passionate about representing the music of today and premiering and commissioning new works from living composers. She is also the 2017 winner of both the Seattle Flute Society Young Artist Competition and the Maverick Flute Competition, and holds performance degrees from the University of Oregon and the University of North Texas.