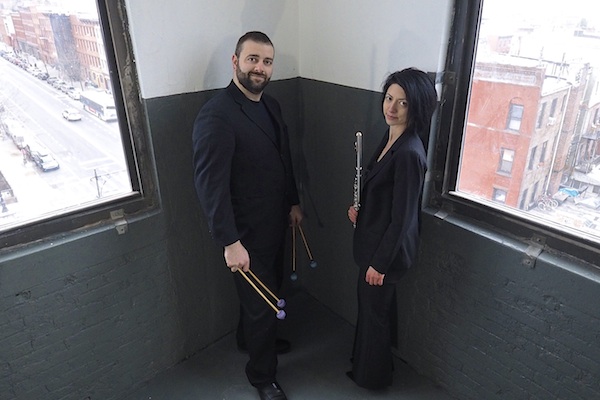 The 4th concert of Spontaneous Combustion New Music Festival features Iktus Duo from New York City, performing works by Lou Harrison, Joseph Pereira, Adam Vidiksis, James Romig, and Washington-based composer Bruce Hamilton.
This innovative new touring festival features seven exciting up-and-coming soloists and ensembles who specialize in contemporary art music, performing in Seattle, Portland and Eugene between Jan. 19 and Feb. 3. In addition to tickets for individual concerts, festival passes are available here ($50/3-day, $100/7-day).
Iktus Duo is a strong advocate for new music, heavily active in the commissioning, promotion, and educational outreach of new music. The duo has performed at the Con Vivo New Music Series (New Jersey), Bulgarian Consulate in NYC, Spectrum (NYC), Open Sound Series (Boston), Trans Pecos (Queens) and Noon Concert Series (Williamstown, MA), Hardin Simmons University, University of UT at Tyler, Stephen F. Austin State University, Louisiana State University, Southeastern Louisiana University, and the Versipel New Music Festival in New Orleans. While on tour, the duo has presented workshops, masterclasses and concerts, and collaborated with student and faculty composers on new commissions written for the duo.
Aspiring to develop its repertoire with the audiences throughout the USA and abroad, the duo has commissioned and premiered a diverse list of composers such as Erin Rogers (Canada), Philip Schuessler and Seth Boustead (USA), Ronaldo Cadeu (Brazil), Hiroya Miura (Japan), and Kostadin Genchev (Bulgaria). These commissions are uniquely crafted for Iktus Duo's performance style.
Iktus Duo features Hristina Blagoeva, flute, and Chris Graham, percussion