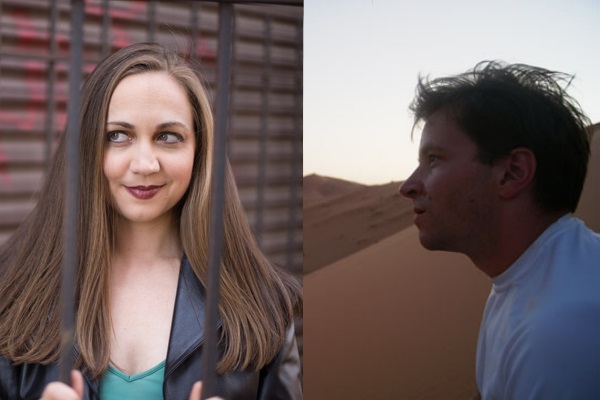 Composer-performer Stephen F. Lilly and soprano-actress Stacey Mastrian present an evening of their collaborations from the last fifteen years. At times humorous, at times reflective, the music and sonic artworks on this program include solo voice as well as spoken word and singing with kalimba, piano, typewriter, and pre-recorded and live electronics. The program will also feature the world premiere of The Second as well as a setting from Seattle poet-musician Ivan Molton, and an appearance by composer-pianist Josh Archibald-Seiffer. All donations help fund the recording of these works in partnership with the Jack Straw Artist Support Program.
"Manifestly courageous" (Boston Globe) and "inspired" (New York Times) soprano Stacey Mastrian is a Fulbright Grantee, Beebe Fellow, and Richard F. Gold Career Grant recipient whose repertoire extends from Monteverdi to the 21st century. She has sung with the Konzerthaus Orchestra (Berlin), Nova Amadeus Orchestra (Rome), and at such venues as the Fondazione Cini (Venice) with the Experimentalstudio Freiburg, Chapelle historique du Bon-Pasteur (Montréal), Teatro La Fenice (Venice), St. Peter's (Vatican City), and in collaboration with Nuria Schoenberg Nono, at the Conservatorio di Musica Respighi (Latina). She has performed across the U.S., most notably with The Bay Players Experimental Music Collective, Vocal Arts DC, CityMusic Cleveland Chamber Orchestra, Opera Lafayette at the Kennedy Center and Rose Hall-Jazz at Lincoln Center, and the Chamber Orchestra of New York at Carnegie Hall. The New York Times has praised her for "intensity, focus, and a warm, passionate sound," and her singing has been hailed by the Berliner Zeitung as "very impressive…tremendous ease and beauty." Dr. Mastrian has been Assistant Professor and Coordinator of Voice at the Sunderman Conservatory of Music at Gettysburg College and has taught at American University, Peabody Conservatory of the Johns Hopkins University, and University of Maryland College Park.
Stephen F. Lilly is a composer, performer, audio engineer, and sound artist. Originally from the Pacific Northwest, Stephen ventured east to study composition. He has graduate degrees from the University of Maryland and composition and bass performance degrees from the University of Idaho. He also spent a year at the Institute of Sonology in The Hague. Theatricality, language, and abstraction are themes that continually resurface in his creative work, the majority of which is scored for chamber ensembles, incorporating signal processing and computer generated sounds. Stephen has written works for CoMA (Contemporary Music for All) Britsol, pianist Hayk Arsenyan, saxophonist Steven Leffue, and soprano Stacey Mastrian and has worked closely with a collective of composer-performers he helped found, the Bay Players Experimental Music Collective. His writings on contemporary experimental music have been published in Organised Sound, Performance Research, Perspectives of New Music, and Computer Music Journal. Recordings of his compositions are available from ink&coda, the SEAMUS Electroacoustic Miniatures Recording Series, and C7 Music and recordings he has engineered have been released on Neuma, Navona, and Albany Records. Stephen currently lives in DC where he composes, teaches, and performs with These Quiet Colours.