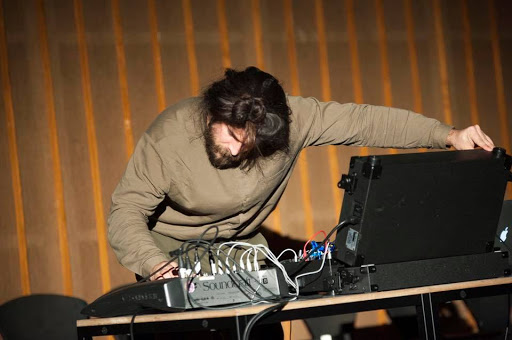 Stefan Maier (b. 1990) is an artist and composer based in Vancouver, Canada. His compositions, installations, and performances, examine emergent and historical sound technologies and the modes of listening which they might engender. His work has been presented by Vancouver New Music, Ultima (Oslo), Forecast Festival (Berlin), SPOR Festival (Aarhus), Musik der Jahrhunderte (Stuttgart), Inter Arts Center (Malmö), Experimental Studio SWR (Freiburg), G(o)ng Tomorrow (Copenhagen), Kunsthal Aarhus, Kunstlerhaus Dortmund, and Haus der Kulturen der Welt (Berlin). Stefan will present his work Arranger. Originally commissioned for the opening of Haus der Kulturen der Welt's Radiophonic Spaces exhibition, the work uses custom Machine Listening software to rearrange Maier's computer-assisted improvisations in real-time. More information can be found here.
Chloe Alexandra Thompson is a Cree, Canadian artist and curator, living and working in Portland, Oregon. Using Pure Data, Arduino, hardware, and voice, Thompson creates unique sonic experiences and expressions through the spatialization of isolated frequencies. Thompson's work has been shown at Unity Gain: High Density Loudspeaker Array, Corridor (Seattle), Littman and White Galleries, Compliance Division, Bronco Gallery, and Variform Gallery. She has also presented in collaborations for Convergence45, Disjecta, Out of Sight (Seattle), PICA T:BA:17, Subharmonic: A Music and Sonic Arts Symposium (PICA), and Nationale. Thompson has given lectures and workshops at T:BA:17 Institute in dialogue with Tanya Tagaq, Subharmonic (PICA) with France Jobin and Burke Jam, Open Signal, home school pdx, Portland State University and PNCA as guest faculty. Thompson's written work has also been featured in publications including Art In America, Zero Cool, Provision, Cig Thesis, and Blankstairs.
Marcus Price is a stalwart veteran of Seattle's experimental electronic music community. In his process-based performances, atomized sound files constellate into unstable rhythms that bend and crack under the force of their own velocity until they shatter again into prismatic clusters of noise and tone. His most recent LP, Brain Job, is published by Happy Accidents, and recordings of his live performances are extensively cataloged on his SoundCloud page.