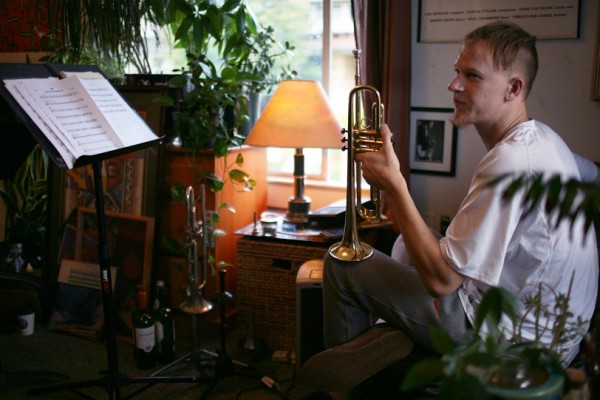 Steve O'Brien is a tall trumpeter, composer and curator with The Spitehouse Concert Series. This performance will be his last large work done in Seattle, before he moves to further his career in a new city.
O'Brien credits composer James Knapp, trumpeter Jay Thomas, and trombonist Julian Priester as his biggest influence in deciding to move to Seattle in 2009. He studied with them privately while he finished his degree at Cornish College of the Arts. Since then he has produced one EP of original music with his chamber group, Only Trio; written and performed original pieces for big band, septet, sextet, quintet, quartet, trio, brass quintet and brass duet; worked with composers Wayne Horvitz, Louis Andriessen, and Butch Morris; appeared on stage with Murphy/Lachow Company at OTB and with Frank Boyd at ACT Seattle; and recorded with Wayne Horvitz, Naomi Siegel, Real Don Music, Spyn Reset, Whitney Lyman, Ron Scalzo, 45thst Brass, Issues, Fox and the Law, Sam Lachow, Solzilla, Fatal Lucciauno and Erica Cooper.
Performing tonight with O'Brien are Devin Bews (drums), Josiah Boothby (horn), Alex Dugdale (alto sax), Geoff Harper (bass), Kate Olson (tenor/soprano sax), Rodger Pegues (piano), Colin Pulkrabek (trombone), Oleg Ruvinov (tuba), Greg Sinibaldi (baritone sax), Jay Thomas (trumpet), and Lucas Winter (guitar).
The evening will start with a brass quintet piece that will feature Jay Thomas. Then two septet pieces, that feature Geoff Harper bass, and Rodger Pegues piano and Lucas Winter guitar. The second half will have a few trio songs arranged for sextet featuring soprano saxophonist Kate Olson and collective improvisations with O'Brien using conduction (a la, Butch Morris), closing with a quintet piece and a blues to feature everyone.
(Photo by Haley Freedlund)