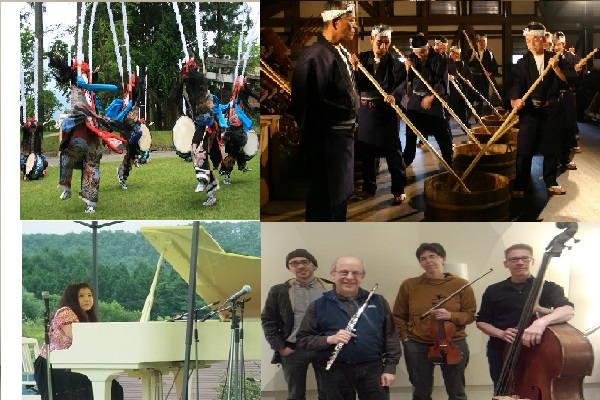 Composer/pianist Sumiko Sato premiers a series of pieces for sextet based on very old and historic recordings of Sakaya Uta (sake-brewing work songs), handed down by oral tradition from one generation to the next but now on the verge of extinction due to the mechanization in breweries.
In old-time Japan, it was common in farming communities for men to travel out of town during the agricultural off-season to work for sake breweries in the winter. Away from their families, they would only work for the brewery until the brewing process was completed in the spring. Singing while working helped them work together systematically, especially in time, counting and consistency. Singing was a way to keep track of time and to ease the pain of hard work, as well as have some fun. Beginners had to learn the songs quickly or their wages would be reduced by half.
For this new work, Sumiko Sato has selected eight songs and composed using some traditional melodies, harmonized, and adapted metrical beats for six performers. The recorded songs are sung by four local Sake masters who are of the last generation able to sing them. The show includes a sake-making film so the audience can see how the songs were sung in the brewing process.
Sato has been recording "Sakaya Uta" for a residency at Jack Straw Productions since 2015, and is set to complete it in January 2017.
The dynamic Deer Dance (Shishi-Odori) is widely recognized as the representative local performing art of Iwate, the Northeastern state of Japan, performed to pray for peace and drive away evil spirits. Each performer (of eight) dances while singing and beating a drum. It is suggestive of the kind of deer shamanism practiced in the northern hemisphere. The late Taro Okamoto, one of the most renowned Japanese artists, once saw a dynamic taiko shishi-odori performance, and compared its rhythm to "dry jazz." Sumiko Sato's work employs the singing phrase and the fundamental rhythmic patterns as motifs, based upon the Kasuga School.
The ensemble: Sumiko Sato, piano; Paul Taub, flute; Tari Nelson-Zagar, violin; Kevin Krentz, cello; Dennis Staskowski, contrabass; Paul Kikuchi, percussion.
Sumiko Sato is a Japanese musician who has received her education and training around the world. Her musical background began at the age of 4. In 1988, she was awarded a Rotary Foundation Scholarship to study music in the USA. In 1996, she finished her doctorate at the University of Washington in Seattle, where she studied composition with Ken Benshoof, piano with Patricia Michaelian, improvisation with Stuart Dempster, and jazz with Willian O. Smith. Her musical interests are far-ranging, from the classics to jazz, rock, improvisation and experimentation. She currently writes, arranges and performs with the Sumiko Sato Trio, Rasu Theatre Company, and numerous instrumentalists, choirs and vocalists.