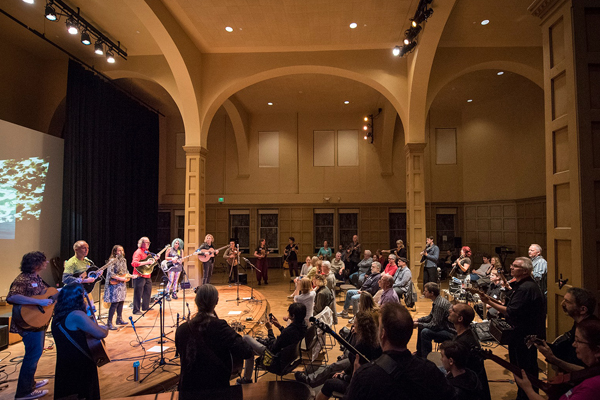 Doors open at 7:30, music starts at 8.
Tiny Orchestral Moments is an international troupe of established, improvising musicians who meet periodically to write, record, perform, and collaborate across genres, geographies and genders.
TOM performers prepare and present collaborative repertoire for layered guitars, voices, violins, strings, wind, and percussion. The aim: structured improvisation that sounds composed and composed collaboration that sounds improvised. TOM shows unfold for the audience in 360-degrees as musicians move in and around the audience. The surround sound is complemented by three walls of ambient video, and supported by an array of guitarists from the worldwide Guitar Craft community. And, each year, we also invite one or two additional surprise 'wild card' guests.
The 2017 Tiny Orchestral Moments core team includes:
Janet Feder – Denver-based composer and prepared guitarist
Paul Richards – LA-based guitarist from the California Guitar Trio
Nora Germain – LA-based jazz violinist, improvising collaborator with the Orchestra of Crafty Guitarists
Nigel Gavin – New Zealand composer and world-renowned Crafty Guitarist
Amy Denio – well-known Seattle musician, composer and member of Kultur Shock and the Tiptons
Steve Ball – founder of the Seattle Guitar Circle, C3 and Electric Gauchos
Julie Slick – bassist with Echo Test and member of the Adrian Belew Power Trio
Alex Anthony Faide – Argentinean guitarist and founding member of Electric Gauchos
Aileen Bunch – Philadelphia guitarist/pianist with Symphony of Crafty Guitarists, and Tilted Axes, music for mobile electric guitars
Martin de Aguirre – Spanish guitarist and founding member of Argentina's Big Time Trio
Sonia Wilson – Paris-based singer and Uke player, and member of New Zealand's Gitbox Rebellion
Dev Ray – Boston-based guitarist and member of Guitar Circle New England