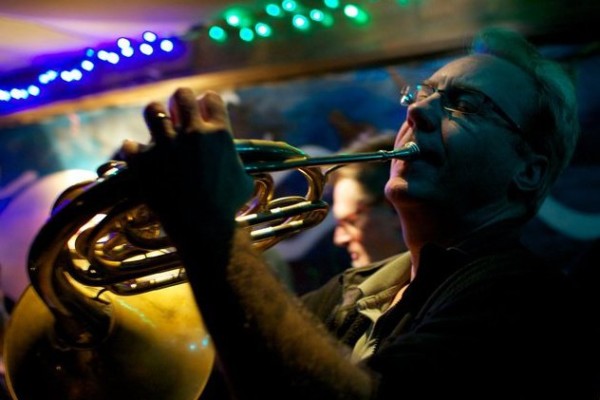 I have really enjoyed some special collaborations with members of the Seattle Phonographers Union together with live instrumental improvisers, over the past four years. We've done three concerts with different instrumental combinations, and this will be our fourth, this time returning to our original setting of field recordings, mixed brass, and percussion. These concerts have been, frankly, magical — you might hear some gorgeous muted brass long tones meeting up with crackling ice, insects, or sounds of a totally unknown origin! Feel free to move around — we will set up in all corners of the beautiful Chapel space. Please join us!
Tom Varner, French horn, with:
Steve Barsotti, Amy Denio, Doug Haire, and Steve Peters, field recording improvisers
Samantha Boshnack, Greg Kelley, Jim Knodle, Ray Larsen, and Thomas Marriot, trumpets
Stuart Dempster and Haley Freedlund, trombones
Greg Campbell, percussion and brass
Tom Varner is a French hornist, composer, improviser, bandleader, and teacher, who moved to Seattle in 2005, after 26 years in New York. He's played with Steve Lacy, LaMonte Young, John Zorn, Bobby Previte, Jim McNeely, and many others, and has 14 CD's out as a leader/composer.