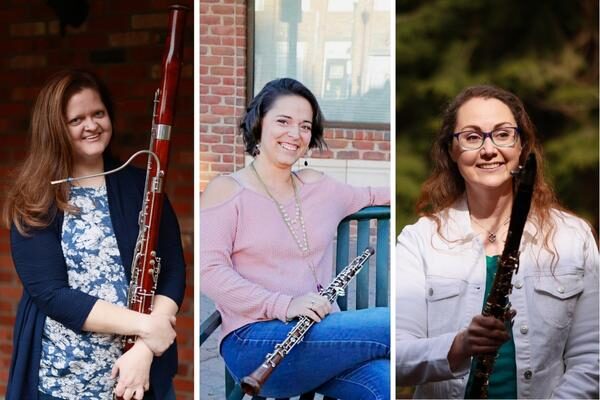 Please note that our building's only elevator is still out of service, so the only way to access the Chapel is via a couple flights of stairs. We apologize for the inconvenience.
Trio de Bois presents an evening of new music for reed trio (bassoon, oboe, clarinet) featuring an international roster of living composers and highlighting works commissioned for their groundbreaking Call for Scores commission project. Featured composers are Adrienne Albert, Reed Hanna, Jon Grier, and Adi Traar. This concert will also be streamed live here.
This recital represents the culmination of three years of work in commissioning and premiering 30 new pieces into the canon for bassoon, oboe, and clarinet ensemble. When this project began at the onset of the COVID lockdown in April of 2020, the ensemble learned to adapt rehearsals to an online format to make preparations from their isolated locations in three different states. The musicians of Trio de Bois have honed this process of rehearsing from Utah, Washington, and Texas, bringing in composers from around the world through Zoom to collaborate and create. After three years of virtual rehearsal and preparation, they are finally able to come together for the first time in person to perform selections from this project live and in concert.
Lori Shepherd is a local freelance clarinetist and woodwind specialist based in Woodinville. In addition to performing chamber music on clarinet, she is often spotted doubling on sax and flute in musical pits at the Village and 5th Avenue theaters, or sitting in with local orchestras and jazz ensembles.
Hailing from Houston, Texas, bassoonist Robyn Watson is a new addition to the Seattle music scene. Since her arrival last summer, she has been called to perform up and down the Pacific Northwest coast with the Village Theater, Auburn Symphony, Oregon Symphony, and Oregon Ballet Theater. She also continues jet set for performances with the Avant Chamber Ballet and East Texas Symphony in Dallas.
Nicole Marriott-Fullmer, oboist, resides in Pleasant Grove, Utah. She is an active freelance musician, performing on call with the Utah Symphony and Ballet West in Salt Lake City. Additionally, she plays in a contemporary fusion quartet called Chrome Street, alongside her guitarist husband and violin & cello colleagues.