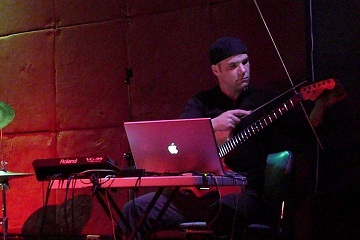 Vance Galloway (SEA) and Charles Stanyon (PDX) present Source to Sea: electronic explorations and meditations on the transformation of sound, from the infinitesimal to the infinite.
Vance Galloway and Charles Stanyon return to the Chapel with a compelling new collection of electronic works and electroacoustic improvisations for guitar, modular synthesizer, found Sound, and signal processors. The program will make use of the lovely acoustic properties of the Chapel and will be presented in immersive surround sound. Audience members are encouraged to experience the pieces from any location in the space, exploring the compelling acoustic properties of the venue.
Please join us for an early evening of evocative sound and acoustic meditation.
Vance Galloway is a composer, improviser and Instrument designer based in Seattle Washington. While often recognized for his audio engineering and technical work for influential electronic artists and festivals worldwide, his own artistic output focuses on the direct connection of sound with human psychology and physiology. His work attempts to bypass the linguistic aspects of musical presentation with the aim of directly influencing the listener on a emotive, visceral level.
Charles Stanyan is fascinated by sound. His performances focus on post-consumption aethetics explored via live sampling, audio processing and feedback loops.