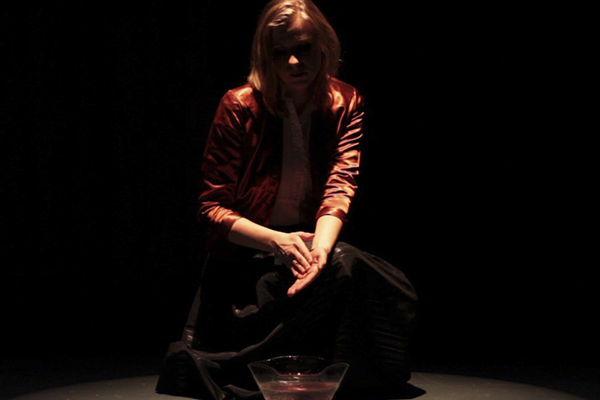 Part I: Factotum: Music of Work and Place – For Piano and Voice
Maria Mannisto – Soprano: Cristina Valdes- Piano
In remembrance of the centennial of the Everett Massacre, the first half of the evening will feature selected songs from Smokestack Arias. Additional works will include songs from Joe Hill, Me gustas cuando callas (with text by Pablo Neruda), and a song, commissioned by the Bushwick Book Club, based on Mark Twain's Huckleberry Finn.
Part II: Music for Solo Piano, Music for Piano and Electronics
Cristina Valdes-Piano, Wayne Horvitz Piano and Electronics
For Piano Alone, In Four Parts, plus Music in Other Rooms (Etude #6) for Piano and Electronics – Cristina Valdes
Improvisations for Piano and Laptop – Wayne Horvitz.
Wayne Horvitz is a composer, pianist and electronic musician. He is the leader of The Royal Room Collective Music Ensemble, The Gravitas Quartet, Electric Circus, and Sweeter Than the Day, and is the recipient the 2016 Doris Duke Performing Artist Award. Upcoming projects include the recording of Those Who Remain Pt. I, premiered by the SSO in 2015, 21 Pianos (McKnight Foundation), and Those Who Remain (Pt. II) Concerto for Installation and Improviser, presented at SAM in the winter of 2017. (Map Fund, Japan Foundation).
Cristina Valdés is known for presenting innovative concerts with repertoire ranging from Bach to Xenakis. She has performed across four continents and in a multitude of venues including Lincoln Center, Carnegie Recital Hall, Jordan Hall and the Kennedy Center. An avid chamber musician, Valdés has toured extensively with the Bang On a Can "All Stars" and performed with the Seattle Symphony, Mabou Mines Theater Company, Parsons Dance Company, Antares and Trio V. Her festival appearances include the Singapore Arts Festival, Brisbane Arts Festival, Foro Internacional de Musica Nueva in Mexico City, New Music in Miami Festival, Festival of Arts and Ideas and the Festival of Contemporary Music in El Salvador, among others. She can be heard on several recordings on the Newport Classics, Albany and Innova labels.
Finnish-American soprano Maria Männistö moves comfortably among a wide range of musical styles to international acclaim. An adventurous recitalist, she has performed as soloist in contemporary works by Ligeti, Schönberg, Berio, Feldman, van der Aa, Scelsi, Crumb, and Boulez, and has premiered works by Wayne Horvitz, Garrett Fisher, William O. Smith, and Tom Baker. She has appeared frequently as soloist with the Seattle Symphony, Pacific Northwest Ballet, Seattle Metropolitan Chamber Orchestra, the Tacoma Symphony, EOS Kammeroper Köln, Seattle Modern Orchestra, and The Box is Empty. Ms. Männistö has performed over 30 solo recitals in the US, Canada, Finland, Belgium, and Germany, and has performed and recorded with The Tudor Choir, The Flemish Radio Choir, Opus 7, The Byrd Ensemble, and Solaris. A dedicated member of the Seattle area Finnish community, she serves as the primary organist at the Finnish Lutheran Church, and performs regularly at Nordic festivals and events.
Presented by Nonsequitur.