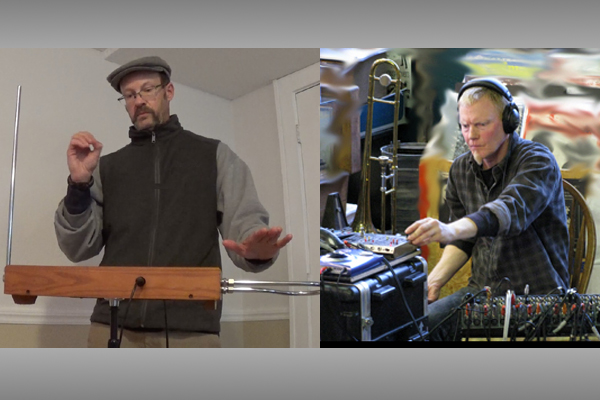 Brian Fergus and Rob Angus present a multi-channel performance of electronic and acoustic music. The two originally met and worked together at Penn State in the 1980s and are excited to play together again.
Brian Fergus has been creating experimental electronic music since 1979. In the 1980s he studied electronic music and composition at Mills College with David Rosenboom, Larry Polansky, Lou Harrison, and Anthony Braxton. Brian is a Professor Emeritus of City College of San Francisco, where he taught electronic music for twenty eight years. He will perform abstract compositions featuring surprising sounds from unusual electronic, acoustic, and acousmatic instrument sources.
Rob Angus studied electronic music and composition at the Boston School of Electronic Music and Penn State. He constructs kinetic ambient-industrial soundscapes using a variety of acoustic instruments and toys to generate sounds that are manipulated, layered, and sent out into a multi-channel surround-sound system.