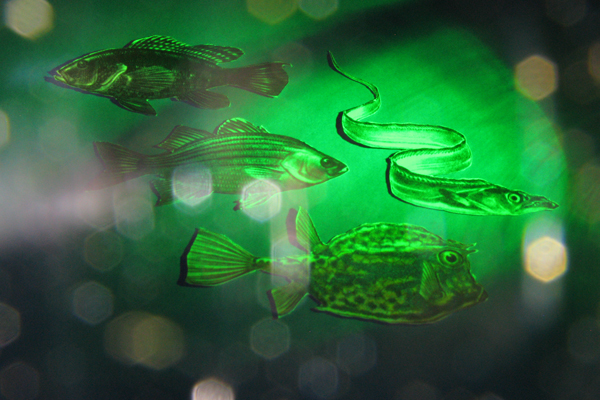 Nothing will be explained this evening': Kyle Hanson (accordion), Greg Campbell (percussion), and Britta Johnson (moving imagery) improvise on a set of semi-composed pieces.
Composer and accordionist Kyle Hanson (aka The Murkies) innovated the extended technique described as 'alternating transverse oscillation of the bellows' by which he obtains a shimmering sound and immersive effects. His music ranges from ambient soundscapes to psychedelic pop with many stops in between. Kyle Hanson led Seattle's Black Cat Orchestra for many years with partner and collaborator Lori Goldston, producing four albums, including one with Mirah, and a song with David Byrne; other collaborators include Amy Johnson, Britta Johnston, Curtis Taylor, Eve Cohen, and Bob Jenkins.
Greg Campbell plays percussion in multiple traditions — jazz, classical music, experimental jazz and free improvisation (often using his own hand-built percussion instruments), and is a member of the Ghanaian drumming ensemble Anokye Agofomma and the Seattle Percussion Collective. A graduate of the New England Conservatory and the UW School of Music, where he studied with Tom Collier, he has performed with Stuart Dempster, Bill Smith, Wayne Horvitz, Tom Varner, Michael Bisio, Eyvind Kang, Don Menza, Stewart Copeland, Marc Seales, the Seattle Modern Orchestra, the Washington Composers Orchestra (WACO), the Tiptons Saxophone Quartet, and many others.
Britta Johnson is a Seattle-based stop-motion animator. She makes video installations, short films, and music videos. Her projects and collaborations have shown in venues including Seattle's Lawrimore Project, Bumbershoot, the Henry Art Gallery, the PICA's TBA festival, the Walker Art Center, MassMoCA, and the Boston MFA. Recently, her Homeostasis video installation was on display in a group show at Greg Kucera Gallery.