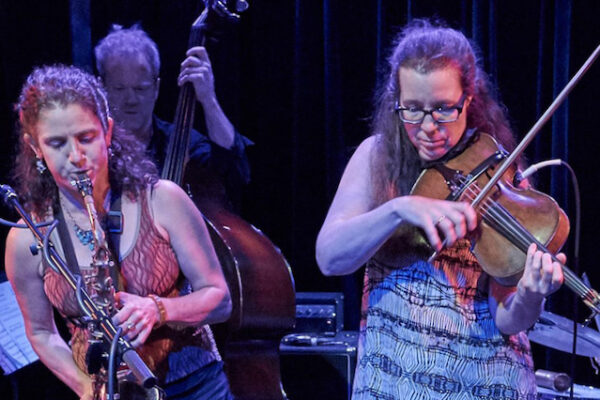 Jessica Lurie is a multi-instrumentalist specializing in saxophones, flute and voice, and enjoys a varied career as a performer, composer, producer, and teaching artist. Highlights include working with artists such as Taylor Mac, John Zorn, Devotchka, Helen Gillet, Fred Frith, Bill Frisell, Henry Butler, Indigo Girls, Mark Ribot, Frank London, Allison Miller, and Nels Cline. Jessica performs with her own ensemble, and co-leads the Tiptons Saxophone Quartet & Drums, Living Daylights trio, Sofie Salonika, Freethiopiques, and Slingshot, and has been working on several new solo and collaborative recordings to be released in 2021.
Violist and composer Heather Bentley has trailblazed a career as one of the West Coast's most visible improvisatory musicians, specializing in creating evocative atmospheres and textures. Classically trained, she has shifted to an unabashedly experimental artistic output: As a performer, she can be seen performing on instruments like her electric seven string and five string violins or her electronic pedal board in numerous chamber ensembles that utilize improvisation, electronics, and often both. As a composer, her work for chamber ensembles and orchestras has been performed by organizations across both California and Washington. Relentless in her pursuit of creativity, she continues this work as co-founder of Kin of the Moon, a 501(c)3 organization which fosters collaboration between artists in service of creating unique art.
Heather and Jessica have been creative collaborators for years in their free improvisation project Slingshot. Tonight's music is all about Spring! – new growth and ideas emerging from fertile dirt and darkness into light and air, to tree and blossom. Their spontaneous compositions both hold intentional musical space for the many changes and traumas brought by the pandemic, while blooming with new sonic energy and color.
With the Chapel closed indefinitely due to the COVID-19 pandemic, the Wayward Music Series moves from the concert hall to the living room. In place of our usual ten monthly concerts, Nonsequitur is commissioning ten Seattle artists each month to create a series of streaming audio sessions of previously unreleased material.