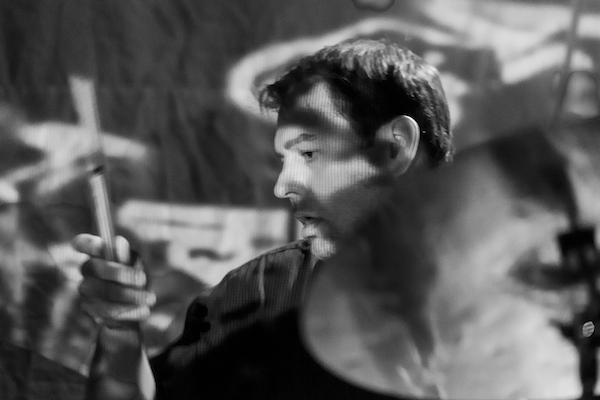 Dave Abramson is a drummer and percussionist. He grew up playing in the hardcore and metal scene on the east coast and studied visual arts in upstate New York, where he began to play improvised and experimental music. Since moving to Seattle in 2002 he has recorded, performed and/or toured with folks such as Eyvind Kang, Secret Chiefs 3, Wayne Horvitz, Climax Golden Twins, Lori Goldston, Paul Hoskin, Wally Shoup, Greg Kelley, Boredoms, etc. Abramson is a member of the bands Master Musicians of Bukkake, Diminished Men, Spider Trio, Telescoping, and has composed music for the Maureen Whiting Dance company since 2004. He has toured throughout the U.S., Europe and Canada and can be heard on albums released by Tzadik, Sub Pop, Drag City, Abduction, Conspiracy, Web of Mimicry, and Important Records.
For the last few months I have been back in New Jersey at my childhood home, a return to the concrete basement where I first started playing drums along to cassettes and eventually with bands. On my first drum set, a 1989 Tama Rockstar, a Bar Mitzvah present from my parents, and a 1967 Ludwig kit gifted from a friend, I present six improvisations. The opening and closing pieces are deconstructions of a theme entitled "Doubles", and the third is based on the Afro-Haitian folkloric rhythm Yanvalou. It has been a time of self-reflection personally and musically to be back in the space and on the instruments related to my younger self. Thanks to everyone for tuning in.
(00:00) Improvisation #1
(05:36) Improvisation #2
(10:44) Improvisation #3
(15:17) Improvisation #4
(20:58) Improvisation #5
(27:25) Improvisation #6
With the Chapel closed indefinitely due to the COVID-19 pandemic, the Wayward Music Series moves from the concert hall to the living room. In place of our usual ten monthly concerts, Nonsequitur is commissioning ten Seattle artists each month to create a series of streaming audio sessions of previously unreleased material.