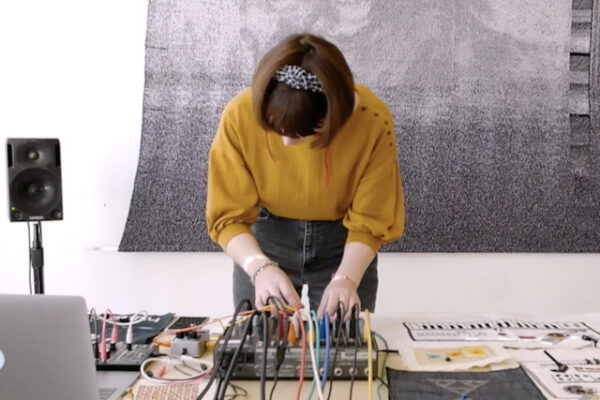 Afroditi Psarra (US/Greece) is a transdisciplinary artist and an assistant professor of Digital Arts and Experimental Media at the University of Washington. Her work engages with the idea of the body as an interface and sound as a medium of control and resistance. She uses cybercrafts and other gendered practices as speculative strings to hack existing norms about technical objects. Hear more of her work on BandCamp or SoundCloud.
Radiotactility was recorded live in March 2021 at the DXARTS Softlab at the University of Washington in Seattle, and has been enhanced with sample RF footage found on the Signal Identification Wiki. The live set is comprised of a series of hand-embroidered digital synthesizers, machine embroidered fractal antennas, software-defined radio, and other miscellaneous electronics. The composition is largely improvised exploring the gestural language of the handmade synths, the tactility and textural characteristics of the textile radio antennas, and the dynamics of layering live radio signals.
With the Chapel closed indefinitely due to the COVID-19 pandemic, the Wayward Music Series moves from the concert hall to the living room. In place of our usual ten monthly concerts, Nonsequitur is commissioning ten Seattle artists each month to create a series of streaming audio sessions of previously unreleased material.