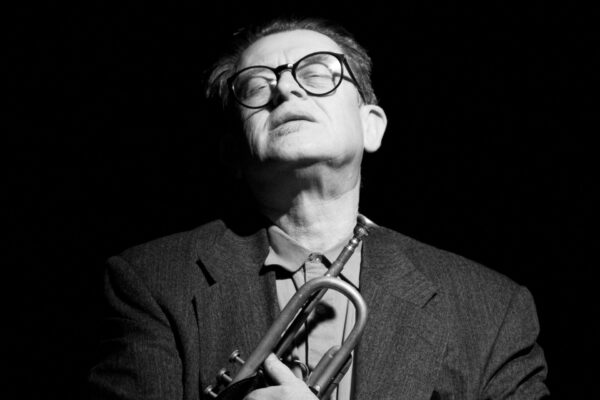 Jim Knodle has been a member of the free jazz group Holus Bolus, and a founding member of Circular Cowboys and Inside Out. He has recorded and/or performed with Andrew Hill, Caroline Kraabel, Dave Storrs, Jonathan Edwards, Lynette Westendorf, Michael Vlatkovich, Paul Rucker, Robin Holcomb, Sue Ann Harkey, Vinnie Golia, Wayne Horvitz and others. He has released several CDs: Wending (Nine Winds) and Unprepared, with Dave Storrs (Louie Records); Keeping the Devil Out, with poet Pamela Moore Dionne (self-released); and This Is Not About the Pecking Order with Big Crinkly Trio. His compositions have been performed in concerts presented by the Open Music Workshop, the Earshot Jazz Festival, Marzena Arts' Spring Festival of Contemporary Music, Portland's Creative Music Guild, the Dumaurier Jazz Festival, Seattle Composers' Salon, Tacoma New Music, Tone Action Orchestra, the Composers and Improvisers Workshop, and the Seattle Jazz Composers Ensemble. Recently he has performed with Big Crinkly Trio and Sidewinder.
Born in Moscow, Russia, and growing up in suburban Milwaukee, violinist Kirill Polyanskiy is pursuing a double major at WSU in Composition and Violin Performance. Kirill spends his free time arranging for the Materia Collective, the Seattle Video Game Orchestra and Choir, and practicing his violin. He is the Concertmaster of the WSU Symphony Orchestra and plays in the first violin section of the Washington Idaho Symphony.
This improvised duo set was recorded live in the Chapel.
With the Chapel closed indefinitely due to the COVID-19 pandemic, the Wayward Music Series moves from the concert hall to the living room. In place of our usual ten monthly concerts, Nonsequitur is commissioning ten Seattle artists each month to create a series of streaming audio sessions of previously unreleased material.